Business
15 Popular Types of Crafts to Sell on Instagram [and Make Money]
We're going to tell you what are the 15 most profitable ideas to offer in your handmade crafts shop on Instagram, and make money.
Selling crafts on Instagram has become one of the best options for entrepreneurship, due to the ease with which products can be displayed and the access to potential customers that this social network makes available. Having a knack for handicrafts can mean a business opportunity, especially now that handmade products have gained popularity. That's why we're going to tell you what are the 15 most profitable ideas to offer in your handmade crafts shop on Instagram, and make money.
Making handmade crafts to sell is an excellent idea to opt for a new source of income, as there are many types of creations that can be made using our skills. Nowadays, we can find many people who prefer to dedicate themselves to creating things with their own hands, dedicating themselves to sewing, tailoring, painting, construction, among others.
In recent years, the handmade market has grown considerably, because it is able to provide a unique and original character that is impossible to obtain in mass-produced products. This is one of the main reasons why this type of entrepreneurship has grown to become a real source of stable income for many. In addition, taking advantage of the benefits of creating a virtual craft shop eliminates the task of acquiring commercial premises, in order to start working on an activity that they are passionate about.
However, with such a wide market, it is difficult to choose which are the best handicrafts to sell, as some have a lot of supply and others lack demand in the regions where we live. For this reason, in each idea, we will give you advice on the type of clients that could buy certain services and some keys to take your business to success. Let's get to know then, the best crafts to sell on Instagram:
15 Best Craft Ideas to Sell on Instagram to Make Money
Many crafts have been sold for decades at flea markets or in small handmade shops, which gives us to understand that this type of business is really lucrative. However, some ideas have evolved to adapt to the new times, always aiming at trends and looking for new alternatives to arouse the interest of consumers.
Below, we will provide you with a list of 15 ideas for all kinds of skills, you will surely find one that is perfect for your business:
1. Self-designed and made-to-measure clothing
In recent years, clothing designed and made by local entrepreneurs has gained a lot of popularity, as they provide unique pieces with an avant-garde style. This idea can be put into action by taking advantage of multiple skills, such as sewing to make unique garments with designs not seen in shops, those with knitting skills can create a large number of pieces for different uses, and those who know how to paint or silkscreen print can print with the most innovative designs.
Additionally, it is important to learn to spot market opportunities in relation to your target customers, so that you can provide them with garments that they want for an event that is happening and that will make them want to buy them quickly. In addition to offering pieces that can cover their current needs: in rainy weather to make plastic jackets, in winter to knit various woollen pieces and in summer light cotton clothing.
The key to success: Create garments with eye-catching, exclusive and even personalised designs, in this way buyers will feel that they are acquiring limited pieces and will get greater satisfaction from the originality.
2. Bags, wallets, fanny packs, messenger bags and purses
We all need to carry our belongings comfortably, especially now that smartphones are no longer pocket-sized and bottles of alcohol gel accompany us, so we generally use bags according to the occasion.
Designing these types of accessories according to their target customer will be crucial; because they will be able to better understand the type of design with which they will be successful. In addition, they can take advantage of the under-explored market for handmade men's bags, which are often limited.
The key to success: Design according to trends and the target audience, as this way potential customers will get exactly what they want. However, it is important to diversify from the competition with personalised and unique items.
3. Caps and hats
Personalised caps have become very popular in the last few months, as they are an excellent alternative to give as a gift and to show off an original accessory. The market for caps and hats is very wide, as they can be printed with fabrics, painted with special paint, with textile patches, among others.
On the other hand, hats can be made from scratch using natural materials. But, it is necessary to define the target customer, the style and the type of hat, among the most outstanding models we have: canotier hat, bell hat, capelina hat, panama style, Cuban style, wide-brimmed hat or the classic straw hat with a bow.
The key to success: Determining the approach will be the key to achieving the objective because there are countries where caps are more popular, while in others they prefer hats; therefore it is necessary to carry out a good market study to determine which ones will have a better outlet. In addition, it is essential to coordinate the accessories with the season of the year in which they are used.
4. Notebooks and notepads
Personalised diaries and notebooks have become one of the most popular items to sell online. Another benefit of this idea is that there are different styles of personalisation, therefore, you can create designs with motivational phrases, special prints, incorporate a caricature of the owner, use a specific theme, use eye-catching materials such as frosting or foil.
The key to success: Personalisation continues to be the key to getting the results you want, so it is vital to know your target audience well so you can deliver exactly what they need. Remember that you can take advantage of Instagram's survey tools, so your followers will tell you directly what they want. However, offering 100% personalised services will guarantee you a higher success rate, as you will be able to give them more value.
5. Papercrafts
Crafts created using paper as a base have a wide range of uses, which is the main reason why it is a profitable idea. Commonly, this service is requested by those who want to order invitations for an event or celebration, because it is an activity that usually requires at least 50 samples.
However, paper crafts can take a leap further, covering other niches and clientele, such as origami ornaments, personalised post-it notes, special paper blocks or papercraft.
The key to success: The card market tends to have a lot to offer, so it is essential to stand out from the competition by offering eye-catching, cutting-edge merchandise. Until recently, the trend was to use die-cut paper embellishments, whereas nowadays foil embellishments are preferred. Similarly, when offering a different type of service, it is necessary to provide just what the customer asks for so that they come back when they require replacement papers.
6. Costume jewellery: necklaces, bracelets and rings
Costume jewellery is a classic that never goes out of fashion, which is why it continues to be one of the best crafts to sell on Instagram, thanks to the ease with which they can be made.
Currently, there is no defined style that is at the forefront, so market research will need to be done to determine what type of garments will be best for your target customer. You can also offer different styles of costume jewellery, such as: bohemian, with the use of feathers, beads or jute; hipster, with steel and minimalist pieces; classic, with stones and metals; or experiment with leather braiding.
The key to success: There are several elements that in harmony make a fashion jewellery venture stand out: originality, personalisation and quality. Generally, customers want to wear clothes that are not at all common, so when they find a different piece, they will want to buy it. In addition, personalised details such as an initial letter or a characteristic that makes them feel special will be ideal. Finally, even if they are costume jewellery, the garments should be of good quality, so that they last and do not deteriorate over the days.
7. Home accessories
During this year, the creation of cup holders with resin gained popularity, so taking advantage of this trend will be incredible to make good profits. Moreover, acquiring the moulds and materials is much easier; because we can find them in specialised shops and not only in e-commerce like Amazon.
Similarly, you can create original and creative accessories that bring your space to life, such as hand-painted tableware, themed covers for different home furnishings, decorated boxes, custom-shaped shelves for pens, mousepads, and more.
The key to success: You need to research your environment to determine which items will sell best and how to stand out from the competition. Knowing how to take advantage of booms will also be an indispensable part of success.
8. Handmade soaps
Natural products continue to be on-trend and this market is expected to continue to grow over the years, as many people are becoming aware of the benefits of using organic, preservative-free elements with fewer counterproductive components. Thus, handmade soaps have become personal care favourites, as well as essential oil-based moisturisers.
Some handmade soaps have properties that help certain types of atopic dermatitis or are recommended for people with sensitive skin, as well as providing many properties to the skin. Also, creating soaps can be much cheaper than you think, as you only need the neutral base, essential oils and moulds. In addition, it can provide a number of benefits:
Clove and arnica soap: anaesthetic and anti-inflammatory, perfect for body massages when showering.
Oatmeal soap: astringent and exfoliating, ideal for oily or acne-prone skin.
Aloe vera soap: prevents excess oil in the epidermis, eliminates toxins from the skin, restores collagen, helps regenerate tissues and relieves itching from insect bites.
Redberry soap: rich in vitamin A and C, they are excellent for removing stains from the skin and giving it a smooth and soft effect. They also stimulate collagen production and remove toxins from the skin.
Coffee soap: caffeine is a great ally for eliminating toxins that cause cellulite; it also moisturises, exfoliates and invigorates the skin.
The key to success: To stand out from the competition and provide better products to potential customers, the ideal is to provide soaps for different purposes; this way consumers will find one that suits their needs. To do this, it is a good idea to carry out studies on the curative properties of the ingredients for certain uses or illnesses; your customers will surely love it.
9. Handmade candles
Like handmade soaps, candles are a product valued by today's clientele, because they are items that can be used at home, at events, as gifts or for decoration.
The market for candles is quite wide, as you can buy standard figures and decorate them for special events, such as baptisms, communions or weddings. They can also be painted to create Christmas decorations, among others.
On the other hand, aromatherapy candles are products with great opportunities to sell, as they have become popular among young adults.
The key to success: Offering candles with different scents and shapes will make you stand out, as your customers will be buying a candle that will also function as a decorative element. For example, a cherry-scented candle in the shape of a cherry blossom to sell in spring or a cinnamon candle in the shape of a pumpkin for Halloween. They also have the possibility to expand their business and offer other items such as personalised candle holders.
10. Paintings and drawings
Paintings and drawings have started to gain popularity among consumers because they function as decorations and personalised gifts. At the same time, giving portraits or caricatures as gifts has become a novelty. On the other hand, approaches can vary according to their skills, as it is possible to create portraits in charcoal, digital, impressionist landscapes, among others. The important thing is to define the target audience and apply a good marketing strategy, in this way they will get a larger portfolio of clients who will prefer their styles.
The key to success: Offering finished elements will be a crucial part of success, as it will save customers from having to search for paintings to frame. However, the most important thing will be to get consumers interested in buying your work.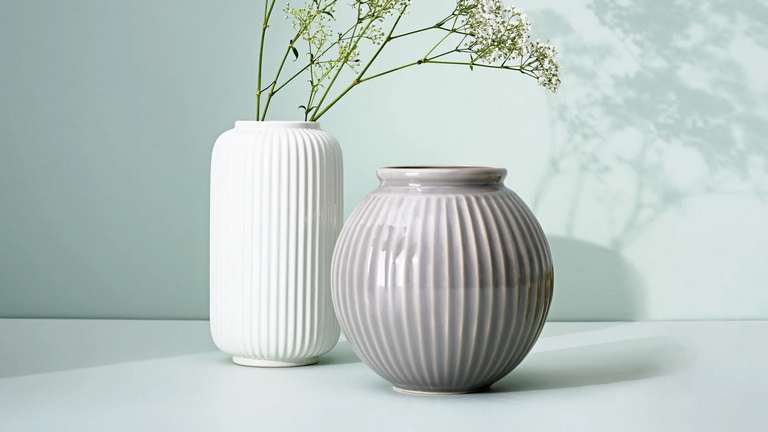 11. Vases
One of the decorative elements that are a must in almost every home is a vase, whether to display fresh or artificial flowers. They can come in all shapes and sizes, so they can be adapted to the taste of each consumer.
Vases can also be designed by taking advantage of special skills in pottery or glass blowing. Lovers of unique and homely objects will not hesitate to support local talent.
The key to success: Offering the possibility to create vases according to customers' specifications will be a great alternative to give more value to the customer.
12. Cushions and covers
An excellent way to give a new look to old furniture is by using customised cushions or covers, so you can take advantage of this niche to start your business. To get started, all you need to have is sewing skills.
On the other hand, making cushions and pillows is also an excellent alternative, among the most popular ones are those with comforting phrases and specific themes. In this case, they will have to pay attention to the measurements needed by the customers; in this way, they will be able to elaborate their patterns properly.
The key to success: Offering different styles will give you the possibility to reach a larger number of customers, so it is necessary to create samples that serve as an incentive, the important thing is to offer different styles: vintage, Christmas, minimalist, textured, superheroes, among others.
13. Carpets
There are many types of carpets and materials to make them, which you should choose according to the purpose for which you want to sell them.
Currently, among the types of handmade carpets, the most classic are those woven with cotton, worsted or thick cord, especially if they have decorative fringes at the ends. Those woven from scraps of the fabric have also become very popular, as they are visually similar to woven rugs and are an excellent alternative for recycling. Finally, those that are at the forefront of environmentalism are the carpets made with coconut fibre, as they use natural and biodegradable materials with great customisation power. Choosing the one that best suits your skills will be the key to getting your business up and running.
The key to success: Offering a good degree of customisation will be ideal to achieve success, so it is necessary to adapt colours, styles or phrases according to the customers' taste. In addition, rugs need to be sold for the right use; for example, rugs made from recycled fabrics are often used as mats for pets to rest on outside their beds. Also, coconut fibre rugs are excellent to install at home entrances, as they clean shoes very well and can be painted with personalised messages such as Welcome, Valar Morghulis or This is going to be a great day!
14. Smartphone covers
This is a trendy trend, so it's the perfect time to make a lot of money by customising mobile phone or tablet covers.
The combination of materials will vary according to the job you want to do, as painting an anime character only requires a case, permanent marker and acrylic paint. However, glitter cases require various types of glitter and special glue such as resin to hold them in place.
The key to success: Designs can vary according to customers' tastes, however, the most commonly used ones are usually adorned with girly glitter, anime/manga characters and prints of k-pop boyband members. Let your imagination run wild and give your customers your best work, they're sure to come back for more!
15. Party crafts and decorations
Crafts for events, decorations and parties are some of the best sellers in the world, as throughout the year there are many celebrations that take place for various reasons. The great thing about this proposal is that there are thousands of things that can be made to satisfy the needs of the clientele, such as invitations, table centrepieces, cotillions, piñatas, souvenirs, decorations, toppers, among others.
On the other hand, the materials used can be adapted to the type of decoration requested, being able to mix interesting elements with some more economical ones in order to obtain higher profits. The important thing is to make the most of your imagination to provide exceptional service.
The key to success: Taking advantage of the seasonal festivities will give you an excellent opportunity to earn more money. However, it is necessary to create samples for different themes, so that customers will know that they can count on your services to get a good result. It is also necessary to offer a guide to help customers decide what they want to get, in order to provide better service.
Creating an online craft shop to sell is an excellent alternative to making the most of the skills and talents we possess while earning money in return. In addition, this activity is capable of providing us with multiple other benefits, such as avoiding paying rent for commercial premises, having the possibility of working from home or being our own boss.
However, any idea you choose must have the maximum goal of offering a quality, personalised and original product, as these are the main elements that every consumer is looking for. By having these three keys, you will gain customers who will come back for more products and your portfolio of buyers will grow along with your Instagram craft shop.
Finally, remember that being a social network, it is necessary to implement a series of digital marketing strategies that will drive your business to get the best results and bring your creations to more people. By implementing a few tactics, you will be able to sell crafts on Instagram like a pro. Best of luck!