Electronics
[Review] We tried Huawei MatePad 2022 — It's almost a computer
Huawei continues to release its tablets and even makes them almost a full-fledged replacement for laptops. We tested Huawei MatePad 2022 bundle to see if it worked. Here's a complete review of this HarmonyOS based tablet!
Do you ever get the feeling that gadgets appear somehow very rarely and not on a regular basis, although in fact, updates come out quite often? I have this feeling about the new Huawei MatePad. Perhaps it appeared because of some very high activity of the company lately.
The release of HarmonyOS last summer, the appearance of the Nova 9 in the fall, the Huawei P50 Pro, and P50 Pocket a few days ago… All this has created an atmosphere of buzz that we are used to with other brands. Amid all this, the release of the new MatePad could have gone unnoticed, but it didn't. We noticed it and want to tell you about it because such activity of the company says something.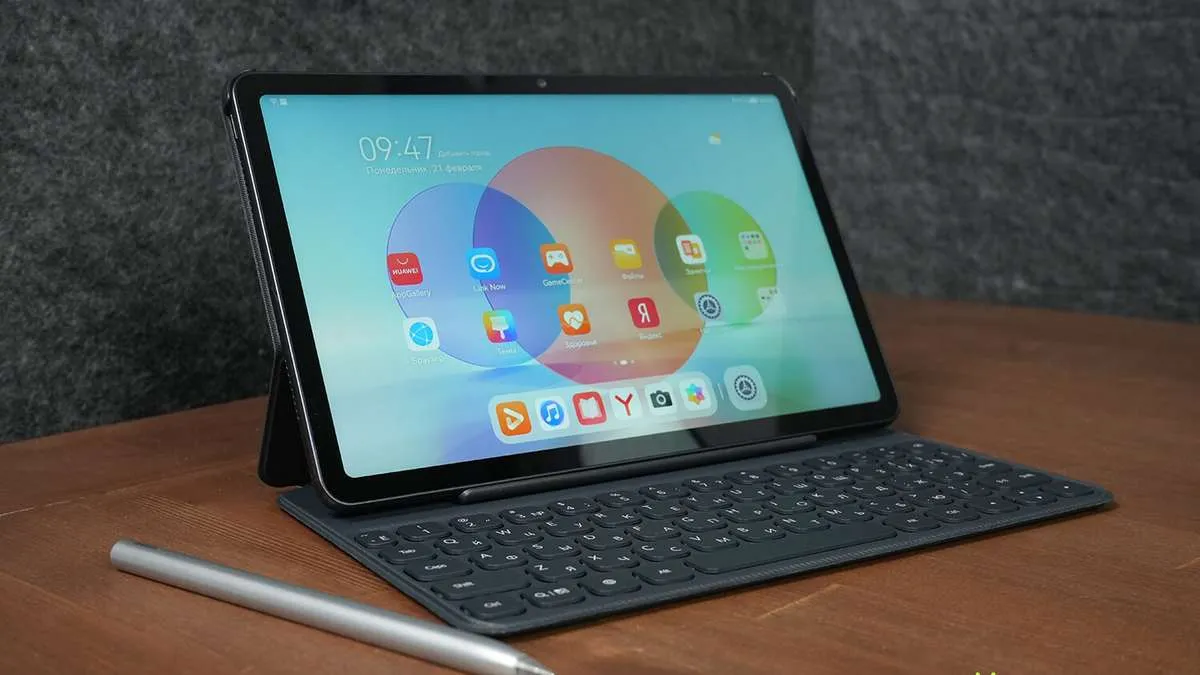 The review of Huawei MatePad 2022
The new tablet seems small, but when you take it in your hands, you understand how weighty it is. With dimensions of 154.96 x 245.2 x 7.35 mm and a diagonal display of 10.4 inches, its weight is 450 grams. This weight is due to the large battery, which I will return a little later. At the same time, if you want to use a tablet with a case keyboard, it is safe to count on twice the weight of this design. Such figures are already comparable to a laptop, but hardly comparable to it in cost and variability of use. I mean the possibility to use the gadget as a separate tablet or in combination with a keyboard.
The appearance of Huawei MatePad 10.4
Externally, this is an ordinary tablet, about which it is difficult to say that it is somehow different from others. The appearance is strict, it's great in the hand and it doesn't squeak. What else do you need from a quality tablet? A good grip is largely due to the back coating, which makes it less slippery.
All the buttons are located in the upper left corner when the tablet is held in vertical orientation. This is much more comfortable than having the buttons on one edge and it's easier to see where all the buttons are.
Is it possible to play on the Huawei tablet?
The processor, which we have already started to get tired of in the last generations of Huawei devices – Kirin – is responsible for the performance. Namely the 710A model. It works in tandem with 4 GB of RAM, and the permanent memory is available in two variants – 64 and 128 GB. There is also support for memory cards up to 512 GB, if that volume is not enough for you.
This is not the most powerful bundle, but for normal work and even for many games it will be more than enough. Although the availability of a large number of games will be questionable due to the fact that the device, like other Huawei gadgets, does not support Google Play. You will have to download applications and games from the brand store AppGallery and third-party sources. Fortunately, the AppGallery store has recently been strongly promoted and has a sufficient number of interesting applications.
A tablet that works on HarmonyOS 2.0
The new Huawei MatePad itself runs under HarmonyOS 2.0, which bypassed even the global version of the Huawei P50 Pro, about which I will talk just the other day. That said, the operating system, although it will be a little unfamiliar, it still resembles Android, which lies somewhere in the depths.
Interestingly, the interface is adapted for use on a tablet. HarmonyOS was created as a universal operating system that can adapt to any gadget, and here it shows in all its glory. For example, the applications that you use most often will be at the bottom, so that it is easier to launch them. Something similar has been in Apple computers and tablets for years but is it so bad if the idea is really very convenient.
Huawei puts a special emphasis on making sure that users can fully unlock the full potential of the big screen, rather than just using stretched versions of apps to work with. For example, the App Multiplier function can make it so that two parts of the same application are displayed simultaneously on the screen. Not all software supports this yet, but as an idea, it can be very useful.
The possibility to work with mini-applications can also be useful. In this case, it will start in window mode without overlapping the rest of the interface. This can be useful if you are working on two applications at the same time and need to keep a lot of information in front of your eyes. Even a simple file exchange will be more convenient.
A tablet with a big screen
All this will be displayed on a fairly large display with a diagonal of 10.4 inches and a resolution of 2000 by 1200 dots. In this case, the aspect ratio turns out about 16:9, and this is the gold standard, of which the industry still can not getaway.
The display has an IPS matrix and a bright backlight. With it even in the bright sun you can work with the tablet, not worrying about what you can not see. To tell the truth, during our test we couldn't get real sunny weather and I tried to simulate it with the help of studio soft-boxes. The result was not bad.
In the beginning, I already said that the tablet got a big battery. Indeed, its capacity is 7 250 mAh. This is enough for 12 hours of watching videos stored in the built-in memory. To talk about some kind of breakthrough in battery life is difficult, it's just an indicator from the category of "above average". But the charging could be more powerful. It is good that the adapter is included in the kit, but its maximum power is only 22,5 W.
Is it possible to shoot on the tablet?
The camera in the tablet, as I say in such cases, is "to be there". It is hardly worth talking about its high quality, but without it you can not release a modern gadget. The main camera has a resolution of 13 megapixels and a brightness of f/1.8. It's enough to take a photo, but no more than that. You shouldn't expect too much from it. The front camera has a resolution of 8 megapixels. In tablets it is needed only as a "webcam", so do not worry too much. Hardly anyone will often take selfies on a tablet. That said, don't think that cameras are bad at all. They're just not the best, and it's better to take pictures on your phone, even if it's not very expensive.
This also applies to video. But the new Huawei MatePad has several microphones and records high-quality sound. There is even noise cancellation for better communication quality during video calls. Playback is top-notch, too. For that, there are four stereo speakers tuned in partnership with Harman Kardon. This is not the first time the brands have worked together, and each time it has proven successful.
Huawei keyboard case, stylus, and mouse
They say that the gadgets are only as good as the accessories for them. Huawei understands this and is one of the few companies that offer the possibility of wide customization of their devices. In particular, there are cases with keyboards and styli for tablets. And if there is a desire, it is possible to connect a wireless mouse. It works via Bluetooth and is powered by one AA battery, which is included.
It all has to be bought separately, but if you want to make your gadget more versatile, these accessories will be very helpful, and you won't have to buy ridiculous universal options.
The advantages of the original accessories are not only in greater physical compatibility or usability but also in functionality. In particular, the branded keyboard offers a variety of key combinations, which we are used to when working with a computer. So you can copy and paste text faster, select it and move around. And at the same time, it will be possible to quickly switch language, which is very important when working with text. When the case is closed, it has a texture similar to that used in the Porsche Design series of products released earlier. And if you don't need the keyboard, you can unfasten it and use a normal tablet.
The new Huawei MatePad supports the work with the second generation M-Pencil. But unlike the older versions, it is not attached to the body and will be charged with a separate charger. In the kit with a stylus, it is not included, which is a little disappointing.
Is it worth buying a Huawei tablet?
Huawei is somehow very thorough when it comes to creating its tablets. I've loved its phones since long ago, but I had a different preference for the rest of my tech. Not because there's anything wrong with it, but because that's just the way things have been historical. Now Huawei is trying more and more to make a complete infrastructure, something that Apple has succeeded because of. But the Chinese company has gone even further. For example, by making it possible to display the phone's interface on a laptop or tablet screen for full use. That kind of thing is very appealing.
If you're worried about the lack of Google Play, it's not as critical for a tablet as it is for a phone. The possibilities of the constantly developing AppGallery are more than enough, and the low price and a large number of gifts attract even more attention to Huawei tablets.