Mobile
How To Put iPhone X Into Recovery Mode
With the release of Apple's latest iPhones (iPhone 8, iPhone 8 Plus and iPhone X), user interaction with the devices has drastically changed. The design of these new smartphones is a far cry from the very first iPhone unleashed by Apple in June 2007. In this tutorial, we gonna help you with the most relevant steps to boot your iPhone X into the recovery mode. That is helpful in many aspects like maintenance, performance and so on.
Apple makes changes to its hardware every time the company updates or releases new devices. With these changes come new ways of doing things and this includes getting your iPhone into recovery mode.
Although these iDevices are new, there is still the chance you may need to put your iPhone X into recovery mode. If iTunes doesn't recognize your phone, your device is stuck on the Apple logo or you see a "connect to iTunes" message on your screen, then you will need the recovery mode to fix these annoyances. It is just that same thing we usually find common among Android devices. If you do not still understand, below we discuss what exactly it is/
What is Recovery Mode?
Recovery Mode is a way to force a restore. It also allows users to update their iDevices using iTunes. Before the new iPhones, putting iDevices (iPhone 7 Plus and below) into recovery mode used the "Home" button together with other buttons on the phones. Although the 'Home" button is still present in both the iPhone 8 and iPhone 8 Plus, it is no longer used to get these iDevices into recovery mode.
Now, with the "Home" button gone from the iPhone X, putting your iPhone into recovery mode is different than before. For this article, we are going to put your iPhone X into Recovery Mode using a very easy to follow procedure. Read and understand the steps outlined below before attempting to do the method.
Whether it is an Android phone or Apple's iPhone, it is recommended to backup your phone before proceeding to keep all your data safe. You must be careful while using this mode. This mode has sufficient privileges to wipe the phone's data immediately and if there's nothing we could do revert that. This procedure also works with both the iPhone 8 and iPhone 8 Plus.
Prerequisites
In order to boot your iPhone X into the recovery mode, there are several prerequisites that you must fulfill. Make sure you have the following :
The latest version of iTunes installed on your computer. iTunes works on both; Windows and Mac powered computers. So, you can install the latest version of it.
The Lightning (USB) cable that came with your iDevice. We need that connect your phone with the computer and pursue our main objective, i.e boot iPhone X into the recovery mode.
Now, you're ready to go ahead and get your phone boot this mode. Just follow the below steps as mentioned to boot into this mode successfully.
How To Put iPhone X Into Recovery Mode: Easy Method
Step 1. Connect your iPhone X to your computer using the lightning cable provided.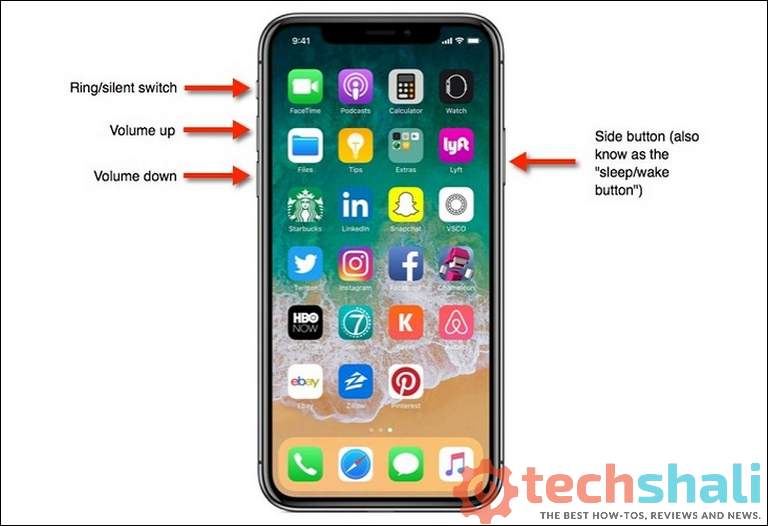 Step 2. Launch iTunes on your computer. Force restart your iPhone X by doing the following: Press and promptly release the Volume Up button. Press and promptly release the Volume Down button.
Step 3. Now, press and hold the Side button until you see the "Connect to iTunes" screen.
Step 4. You should now see an iTunes alert message on your similar to the one below. This confirms that your iPhone X is in recovery mode.
You can fix most problems with your iPhone X once you put it in recovery mode. You can now restore it from a backup or update your smartphone to the latest iOS version.
Just restart your device to exit recovery mode and you're done! Basically, Recovery mode helps you out with factory reset and update options. If for some reason, your phone couldn't work normally, stuck on the boot logo, or doesn't boot up, you can perform a factory reset over it. This helps to fix most of the bugs, issues, and problems linked to the operating system.
Or else, you're near to have your iPhone X updated to the latest version through iTunes. Just hit the update button to begin the process. We hope that our readers would find this tutorial helpful. You can leave your comments in the below section. We would be happy to hear your thoughts, tips, and advises.