Mobile
Best Spotify Premium Cracker – Convert Spotify to MP3 Without Risks
Spotify Premium requires users to pay for a monthly subscription fee at $9.99 to keep accessing the advanced streaming services brought by Spotify. This can be a large expense in a long run, and that's why so many Spotify Premium crackers advert as you go search online – the programs used to get all Spotify Premium features for you without actually subscribing to it.
However, as most of these Spotify Premium crackers are not developed officially, you probably feel concerned about their security. Therefore, this review will mainly concentrate on introducing the most secure Spotify Premium cracker that can function stably to convert Spotify to MP3 without any hidden risk.
Now, you can dive into reading.
Free Approach to Crack Spotify on PC? Full of Risks!
As talked before, some free Spotify Premium crackers are actually asking you to install a modded Spotify software installed on the device, in that get Spotify cracked on PC. Within this modded Spotify version, you can use it just like in the official platform but with certain premium features equipped. Such approches don't require a Spotify Premium subscription or installing Spotify official applications at all. However, they come with the following two major restrictions that may affect your experience:
Restriction 1: Device and Data Security
The most obvious risk that would brought by these Spotify Premium crackers should be their security. As they are not strictly verified or authorized by official organizations, some hackers may take virtue of them inserting fishing sites or hacking viruses while you get the applications installed on your devices. This may easily lead to privacy disclosure or device hacking dangers.
Another restriction of such free Spotify Premium crackers lies in the fact that they are probably developed to crack only one feature conatined in the Spotify's official subscription plan. For instance, the well-known Spotify cracker SpotX is mainly developed with the ad-free feature to enable you an ad-free Spotify music streaming experience after getting Spotify cracked. Another application, Spotify Premium PC 1.1.97.962 Cracked from LatesProductkey is functioning to crack Spotify Premium's download feature, allowing users to access offline mode and download Spotify songs to enjoy offline.
Overall, most users would still take security as the priority while considering to select a Spotify Premium cracker, espeically when they have stored lots of important data on their own devices. Therefore, as we have gone through testings on a large amount of Spotify crackers, we have sorted out the best and risk-free ones to help you crack Spotify Premium and stream ad-free Spotify playlists as well as convert Spotify to MP3 as DRM-free local files offline at the same time. Now, move down and see who it is.
Risk-free Spotify Premium Cracker to Convert Spotify to MP3
Through embedding Spotify music player in the program directly, TuneFab Spotify Music Converter is regarded as the most secure and reliable Spotify Premium cracker with both ad-block and download premium features equipped. You can log in with your Spotify credentials to access the official music player, and browse the database to enjoy playlist streaming as well as download feature at the same time.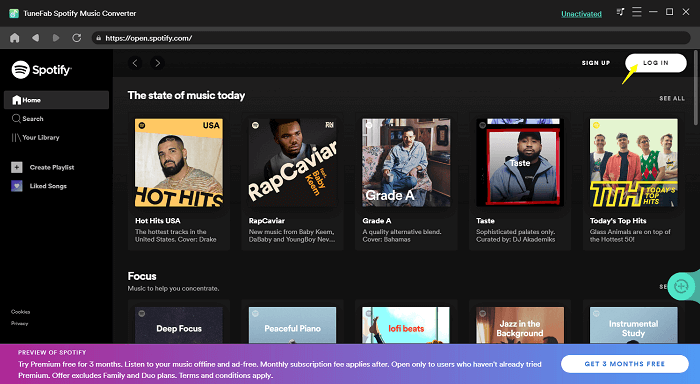 To safeguard the security of both your devices and Spotify accounts, TuneFab Spotify Music Converter has well developed and enhanced its protection system with advanced techniques. When it functions to stablize the music streaming and conversion environment, Spotify will not judge any unusual actions and lead to your account being suspended. Furthermore, it will strictly prevent any third-party fishing sites, malware, or malicious viruses attempting to invade your device systems, ensuring a 100% safe platform for you to use the premium features in the official Spotify music player.
More powerfully, TuneFab Spotify Music Converter is equipped with the DRM decryption function, which can bypass the music streaming restrictions brought by Digital Rights Management, allowing you to convert Spotify to MP3 or other popular formats as local files offline. By getting these DRM-free Spotify downloads, you can move them to store on all devices and play offline even without installing Spotify programs at all. When you cancel Spotify subscription and no longer use as a premium subscriber, you can still access these downloads whenever you want.
How to Crack Spotify Premium and Convert Spotify to MP3 in Batch Easily
The clearly-designed main feed of TuneFab Spotify Music Converter also attributes to its convenience in manipulating. This risk-free and handy Spotify Premium cracker only takes you several easy taps to convert Spotify to MP3. In the following, you can walk through the manipulation procedures and follow to use the cracked Spotify music player to save Spotify playlists as MP3 in no time:
Step 1. Log in Cracked Spotify Music Player
First, install TuneFab Spotify Music Converter on your computer. When you run it and click on the Open the Spotify web player to access the cracked Spotify music library, please tap the Log in button to log in with your Spotify credentials. Using a free account is okay.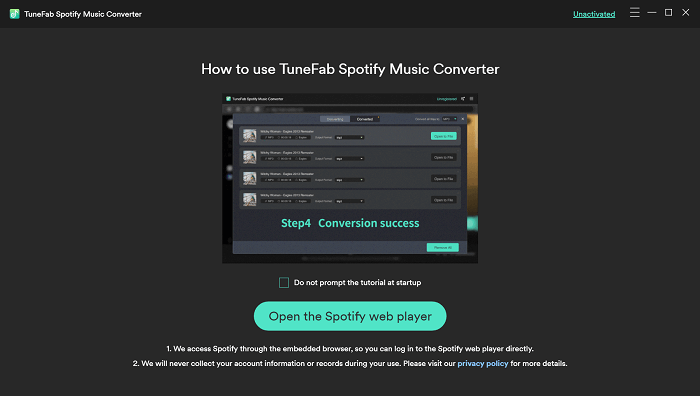 Step 2. Select Spotify Songs
After the account login, you can browse and stream Spotify songs in the same way as usual. As TuneFab Spotify Music Converter has cracked the Spotify Premium for you, you can access the download function to convert Spotify to MP3 or other DRM-free formats. Please drag the songs or playlists to the Add button for resolving them first.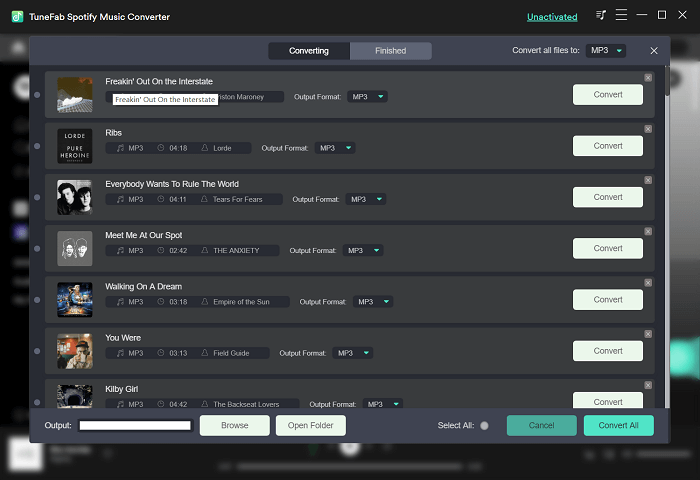 Step 3. Configure Output Settings
Subsequently, please turn to Menu >> Preferences to further personalize the output settings in preferences. Under the Advanced module, you can select MP3 as the targeted output format. Furthermore, both SampleRate and Bitrate are available to be altered to convert Spotify to MP3 with the sound effects as you wish.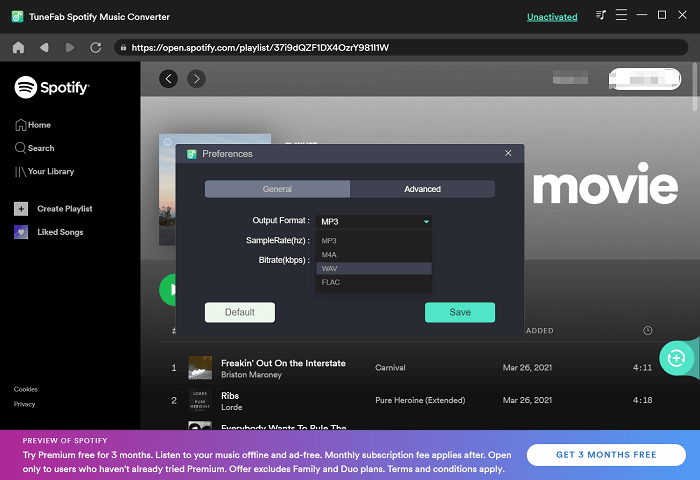 Step 4. Batch Convert Spotify to MP3
Eventually, please click on the Convert All button to convert Spotify to MP3 in no time. Then TuneFab Spotify Music Converter will proceed with its powerful batch conversion feature and save all Spotify songs in MP3 format locally for you.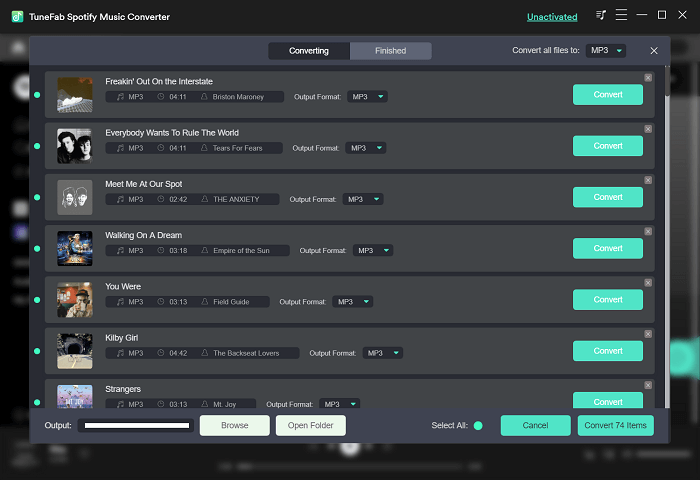 Pros and Cons of TuneFab Spotify to MP3 Converter
To sum up, the best Spotify Premium cracker for PC, TuneFab Spotify Music Converter, contains the following pros and cons. Take them as references before determining whether to select it or not.
Pros
Safeguard account and data security with advanced security techniques applied.
Embed the Spotify music player to ensure music conversion at high success rate.
Allow adapting the music effects in personalized settings by altering SampleRate and Bitrate in preferences.
Fully save ID3 tags accompanying Spotify playlists download.
Speedy performance reaches 5X faster speed to ensure the time-saving conversion.
Cons
The program requires further subscription to convert complete Spotify songs.
The free trial only lasts for 30 days.
Final Verdict
To select a risk-free Spotify Premium cracker for PC, TuneFab Spotify Music Converter reveals its superiority in dealing with music conversion in a secure and highly-successful way. You can definitely trust it and use the brilliant download feature to convert Spotify to MP3!