Mobile
10 Best Platforms To Create Apps Without Coding
Looking for a program to create native apps, want to create a mobile app, but don't have programming skills, want to make money creating apps? Well, you've come to the right place.
The mobile application market is booming and in recent years has had an exponential growth; because some platforms to create apps are so easy to use that anyone can design one without programming skills or developing complex codes.
App builders for beginners have been developed with the public in mind who want to create a phone application quickly and in just a few steps. However, choosing an app builder is not such an easy task given the number of options and the advantages that each one can bring to the table.
To help you choose the best platform, we will analyze its main features, functionalities, and the investment needed to create an app for beginners. We will evaluate options such as Mobile Roadie, especially aimed at companies and websites; as well as Mobincube, which is the most used free app builder in the world.
Let's learn how to create a free app and make money:
Mobile applications: A growing market
With the use of smartphones, the creation of apps for businesses, companies, and mobile games, has become popular in recent years, having a considerable increase in the market and resulting in companies and individuals seeing the need to create their own apps to collect data from their users and improve the browsing experience.
That is why, in recent years, a good variety of startups have designed platforms to create apps without developing code, which has made it easier for people without programming skills to create mobile apps easily and quickly.
App builders for newbies: Not all are the same
For the most part, app makers offer two types of app options: one version for progressive web apps (PWA) and another version for native apps; these are their main features:
Progressive Web Apps (PWA): These apps function as a mobile version of a website and are designed to offer users native app functions without being native apps. For example e-commerce modules, publish articles, user registration areas, among others.
Native applications: They are the most known, used, and sought after by users; because they can be downloaded from the application stores of mobile devices such as Google Play Store or Apple Store. With them, it is possible to send push messages and establish better interaction with users. However, most providers require the creator to pay a fee of between $40 USD and $60 USD to host the apps in the Google Play Store; while this amount doubles in the case of the Apple Store.
In this sense, before choosing an app builder, it is essential to determine which of these two types of apps you want to design, as some only have one version available, and others both, but at an additional cost. To help you make a decision, we will give you several options to create any type of mobile application without having to learn to program.
10 Best Platforms to Create Apps Without Knowing How to Code
Currently, there is a wide variety of mobile application creators on the market, which have a wide range of features tailored to the needs of each user.
To help you choose the best app builder, here is a list of the 10 best free and paid alternatives, with which you can create native apps without any knowledge of programming or coding.
1. Siberian CMS; content manager for creating open source apps
Siberian CMS is a French app builder, which can meet the needs of most beginner developers. It works for free; however, it requires installing its platform on the user's hosting to get all the source code of the created application.
Likewise, it has an alternative for beginner developers who do not know how to do the installation, which costs $65 USD and is carried out by the Siberian CMS team.
As for their plans, in addition to having a free version, Siberian CMS has a paid version with which you can create an unlimited number of apps for $440.50 USD called Multi App Edition and a version for resellers to sell applications under their own name and with white label service on Google Play or Play Store for only $883.50 USD.
One of the advantages of this application creator over others on the market is that it has a number of useful modules, such as: a chat tool similar to WhatsApp, an extension to hire specialized cab services such as Uber or DiDi, make reservations in various establishments or anchor classified ads like Craigslist.
It includes useful features such as unlimited push notifications and mobile commerce; however, its templates and designs, being pre-designed, may not be suitable for all types of projects.
Although designing an app requires a minimum level of technical knowledge and effort, it is possible for anyone to understand the basics of web hosting, so it is likely that they will not encounter any problems when working with this platform to create apps.
Advantages: One of the biggest advantages of Siberian CMS is that it is possible to create professional-looking applications using the free version. Additionally, the extensions are of high quality and it has features that are not available in other app builders.
Disadvantages: For now, the documentation is only available in English, but it is possible to download the package to localize the application in Spanish. Also, sometimes the editor can be a bit stiff.
2. MobAppCreator; the newest alternative on the market
MobAppCreator is an Argentinian company focused on creating native apps; it is also the newest alternative on this list. Its developers claim that their tool has been used to create more than 41 million applications, mostly mobile apps for SMEs and video games.
Unlike other creators, MobAppCreator does not have as many pre-designed templates to use, but they can be edited and customized in a much simpler way than with other options. This app creator has well-explained modules and easy-to-understand terminology, making it one of the best platforms for creating apps if you are a beginner.
In addition, the platform has options to design product catalogs, cooking recipes, guides to places of interest with geo-locators, extranets¸ photo galleries, and functions to listen to online radio, among others.
One of the most outstanding features of MobAppCreator is that it has a module to visualize the application as if it were in real use, which is also updated with each change made. However, being a relatively recent creator, it has some problems when trying to make changes, so we recommend always having a backup outside this tool.
Unlike other options, the costs of MobAppCreator plans are quite high. Its cheapest and simplest plan has a value of $32.50 USD; however, the platform offers 14 days of free trial with all the features for users who want to verify its functions.
Although this option is a bit expensive and its functions are not as extensive compared to other programs for creating applications, many users prefer it for its ease of use and the speed with which you can create an app valid for iOS and Android mobile devices.
Advantages: MobAppCreator has an intuitive and easy-to-use interface for novice users; it also has its own online store module available for the South American market.
Cons: So far, it has a limited amount of templates available in its free version.
3. AppYourself; simple and user-friendly
This company, founded in 2011 in Germany, offers its users the power to create apps for mobile devices with iOS, Android, and PWA applications. It is ideal for the development of apps that work in the background or does not consume so much data.
In terms of design, AppYourself has a user interface that is extremely easy to use and ideal for those who want to create an app without programming knowledge. It includes functions for e-commerce, tools for making restaurant reservations with the Open Table option, regular news channels, and photo galleries.
As for its payment plans, AppYourself has several options that can be adapted to the budget and needs of users, such as a Starter plan ($22.50 USD per month), for creating progressive web apps and registering up to 200 users; a Business plan ($44.50 USD per month), also for creating PWA apps, but with a limit of up to 2000 users; and the Enterprise plan ($88.50 USD per month) that provides access to unlimited users and native apps for iOS and Android.
Advantages: This app builder is simple to use, especially if you are a beginner. It has a well-structured interface that makes it easy to use, its own online store module and a very efficient technical service.
Disadvantages: Although it is available in Spanish, some of its articles and guides are not fully translated, which could be a drawback for users who do not speak the language.
4. ShoutEm; the crème de la crème of app creators
ShoutEm is a company founded in 2011, whose main objective is to offer a quality tool to create powerful mobile applications. Among its best features, we have the use of place directories, which are based on the user's location to direct them to places of interest; this is an ideal functionality for booking apps, museums or establishments.
In addition, its monetization elements make it one of the most profitable alternatives; since it allows the integration of Shopify and mobile advertising, which provides users with the possibility of obtaining a return on their investment in the platform.
Compared to other platforms for creating apps, ShoutEm has more balanced rates in terms of quality and price. Its basic package costs $19.90 USD per month, while a more advanced plan with options to publish in the Android or Apple stores costs $49 USD.
So, ShoutEm is the ideal tool for developers who require a platform with multiple functionalities, amazing templates and that are fun to use.
Advantages: ShoutEm has a huge variety of high-quality designs and location-based elements. Also, the creator has an easy-to-use interface and a few-click image uploading system.
Cons: It lacks its own online store module, which may be annoying for some users. It is only available in English.
5. Swiftic! (formerly Como DIY); the favorite tool of app creators.
Founded in Israel in 2010, this mobile application builder boasts more than 1.5 million active apps worldwide, making it one of the most valuable alternatives in the industry.
Swiftic has a series of very interesting functionalities, such as: loyalty cards for users, e-commerce options, integration of personal agendas, data collection for websites, and creation of community events.
Its gallery has a variety of templates for bands, restaurants, and other types of organizations that hold events, making it an excellent choice for organizers and planners. Additionally, it has nine different templates that can be combined with the seven navigation styles and edited to modify background images, colors, and icons.
Recently, Swiftic's rates had an adjustment, so it is only possible to hire according to the amount of time you want to use the service, being distributed as follows: Monthly plan for $57 USD, annual plan for $576 USD ($48 USD per month) and biannual plan for $984 ($41 USD per month).
On the other hand, the company offers a 6-month success guarantee to users who create apps on its platform; which consists of giving away six months of free subscription if the developer does not obtain "considerable results" with his app.
Advantages: This creator has a friendly, organized, and easy-to-use interface. However, its best feature is its range of features; due to the fact that it is one of the most extensive and outstanding in the market.
Disadvantages: The design of some of its templates requires a certain degree of modernization; since some elements are not as current as those found in other application creators.
6. Mobincube; an app for everyone
This company, founded in Spain, offers a tool for the creation of mobile apps for all types of users. According to its premise, anyone can create an application and earn money using the Admob platform.
However, they also clarify that before starting to monetize an application, it is necessary to create it by making a previous investment. Even so, Mobincube is one of the cheapest creators in the market; in addition to the free plan, it has a version without ads for only $11 USD per month.
As a curious fact, all the plans of this platform allow you to create native apps; so you can upload your creations to the iOS and Android stores without any problems.
Mobincube allows its users to create all kinds of pages with complex layouts. For example, it is possible to produce a database based on SQLite code to extract data from an external server. In addition, it is also possible to add HTML modules to the created applications; such as: embedded HTLM5 games, advanced forms, animations, user account registration screens, access to different branches of the application depending on some variables (language, region, time, terminal type, among others).
For all these features, we can point out that this is one of the best creators for newbies; for having a fairly complete free version and affordable plans.
Advantages: This creator has some of the most competitive prices in the market; besides being available in a good variety of languages. Additionally, it has a large number of original templates and presentations to choose from.
Disadvantages: Some of the available templates have rigid layouts and their editor can be difficult to use for beginner creators.
7. AppMachine; app builder with potential
This Dutch mobile app creation platform has multiple tools that automate as many routine processes as possible. To start, just provide the URL of your website and the AppMachine editor will import everything its algorithm considers important to generate the application: Images, content, Twitter, Facebook and RSS. All this, with just a couple of clicks; this being a unique and useful feature of this creator.
Similarly, the editor is able to visually impact users without being overwhelming or exaggerated, since the use of Lego blocks is a nice design. It has an extremely intuitive and easy-to-use interface from the very first moment, which considerably facilitates the creation of apps for beginner users.
To access all the benefits of AppMachine, it will be necessary to hire one of its two plans: Plus Plan, with a cost of $49 USD, or the Pro Plan of $69 USD per month.
Advantages: AppMachine is one of the most powerful creators and has a wide variety of options.
Disadvantages: The user interface can be confusing to use; due to the fact that the layout of the elements does not follow a set method.
8. Appy Pie; creator for beginners
This mobile application creator founded in India, claims to have the most promising growth rates in the market. Although this kind of information is difficult to verify, Appy Pie does have a solid network of users in various regions of the world and great online popularity.
Like Mobincube, this platform offers an excellent free plan with which most novice users will be able to create their first apps without using code. However, these creations will only be mobile applications; because to have a native app in any of the stores for mobile devices (iOS and Android) it will be necessary to hire some of the payment plans.
One of its greatest qualities is that it has options that other creators do not have. For example, in Appy Pie, you can make in-app purchases, upload e-books, connect to multiple databases and even create an online dating app for mobile devices.
However, most of these features are integrations; so you need to consider that you may have to register with third-party services in order to use them and have them work properly.
Pros: Appy Pie has a huge catalog of useful and interesting features, its interface is user-friendly and it is extremely easy to use.
Disadvantages: The design of the templates and icons is a bit rudimentary, which can make the apps look unprofessional. Although it has a good support service in Spanish, most of the resources for users are only available in English, so it is advisable to use the chat to receive advice.
9. BiznessApps; the creator that attracts leads
BiznessApps is an app builder founded in California, United States, in 2010, which to date has helped design more than 400,000 apps. According to a video posted on its official website, every 1 in 20 apps used in the world works thanks to this platform.
BiznessApps has very useful tools, such as the possibility of creating native apps for iOS and Android. All you need to do is purchase the Mobile App plan, which costs $59 USD per month.
The editor has a clear and well-structured interface; which facilitates a better understanding by new users. It includes pre-designed templates, Google fonts, and beautiful icons with which they can create a modern and functional app on any operating system.
It is ideal for designing native applications for mobile devices with the iOS operating system and publishing them in the Apple store. The only drawback is that this creator is only available in English.
Pros: BiznessApps has a wide variety of third-party integrations, including several ways to attract the attention of leads.
Cons: Visually, it is not as nice as other creators and its creation process is considerably slower.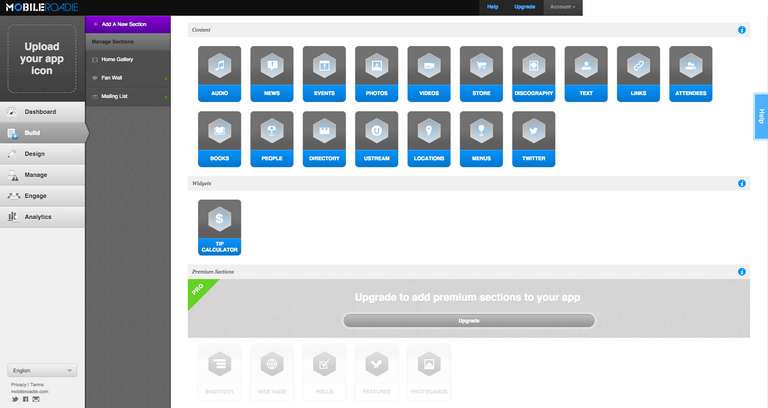 10. Mobile Roadie; the ideal app builder for businesses
Finally, we have the favorite creator of companies, known this way because among its clients we have renowned giants such as Disney, Universal, or TED.org; who claim to have apps created on its platform.
Mobile Roadie has a wide variety of designs with templates that can be customized in different ways. It offers the possibility of adding useful and interesting functionalities for online communities such as online chats, fan pages, entries for posting photos or sharing content, as well as integration of music systems.
Additionally, the platform has some advanced features that are not available in other app creators, such as the use of geographic targeting for user content. However, being more complete requires prior knowledge and some programming skills in operating systems such as Android and iOS.
The prices of its monthly services range from $125 USD for the CORE plan to $668 USD for the PRO plan, so it is not affordable for all budgets.
Advantages: Its templates have minimalist and elegant finishes, as well as a wide variety of options to customize them to your liking.
Disadvantages: Although it offers advanced features, the price to pay for their plans can be high, especially if you are starting out. Additionally, its advanced features and tools are a challenge for novice programmers.
In the market, it is possible to find a great variety of app creators for beginners, which do not require advanced programming knowledge and offer professional results. Therefore, if you are considering designing an app from scratch, mobile games, or creating free apps for a store, the platforms in this list are a great option.
While these free app creation programs are a good alternative for those who are just starting out, we recommend taking programming courses to improve your skills and achieve better results in the future.