Google Chromecast is an innovative solution for watching videos, movies, photos, games and other compatible app content on your TV for a big-screen experience. Google Chromecast uses your iOS or Android device as a remote control. Check out this list of the best apps to watch movies on Chromecast for Android and iOS that make the experience even more interactive and powerful.
You can even cast content from the Chrome web browser to a PC using Chromecast technology. Many modern mobile apps support this unique technology to cast media content to the TV.
List of best apps to watch movies on Chromecast
With these apps on your Android or iOS devices, you can increasingly feel more in control of what you'd like to watch and when.
1. HBO Go & HBO Now – Official movie watching application
HBO Go offers amazing luxury by allowing users to stream their favourite HBO content directly to their Android and iOS devices so they can enjoy the latest HBO original TV shows and movies. Some of the shows that are making waves are Silicon Valley, Game of Thrones, True Detective, etc.
To use this, users must first have a cable subscription to access their content along with additional features. They can also separately opt for HBO Now direct streaming which frees you from the mandatory cable subscription.
Why should you download it?
Weekly premieres of the most popular shows.
Picture quality.
In addition to being available for Chromecast, it's also available for Apple TV.
HBO GO is an app that gives you immediate and unlimited access, anytime, anywhere, to your favourite HBO series, blockbuster movies, documentaries and more.
Enjoy HBO GO content on your computer, iPad, iPhone, iPod touch, Apple TV, Android devices, Android TV, LG Smart TV, Samsung Smart TV, Roku and XBOX One.
2. Hulu Plus – Inexpensive subscription app to watch movies from your Chromecast
Hulu Plus is another subscription-based service that lets you follow your favourite current TV show episodes from popular channels like ABC, Fox, Comedy Central, NBC, BBC and more.
If you're a fan of Agents of S.H.I.E.L.D., Family Guy or A Day in the Life, Hulu Plus has a simple and affordable way to offer you convenient viewing. You can also watch the latest movies and Chromecast allows for a seamless experience on your mobile device, PC or TV.
Why should you download it?
Wide variety of content.
Live TV programmes.
You can save up to 5 hours of programming on your device.
Offline functionality.
Hulu is a subscription video-on-demand service owned by Hulu LLC, Disney-ABC, Fox Entertainment, NBC Universal and Turner Broadcasting System.
It mainly features series and entertainment programmes such as reality shows, talk shows or quiz shows, but also includes movies and documentaries among other common interests of today.
3. YouTube – Video application and search engine where you know you'll find it all.
While YouTube may not be the best place to watch movies online, it's worth noting that with the rise of Netflix-style apps, YouTube has entered the competition by creating more and more original content and allowing many users to post movies that are considered classics. There is rarely anyone in the world who has never tasted the power of YouTube in their life. This video sharing network application gives us all the power of mobile streaming, playlists, chat, personal channels, paid movies and many more advanced features.
Google's flagship app gives us the advantage of Chromecast support to enjoy YouTube videos on a widescreen TV for a vivid and enhanced experience.
YouTube is progressively expanding its services and is now adding more specialised apps, such as YouTube Music and YouTube Gaming, to capture the widest audience.
Why should you download it?
It's the most visually rich platform on the web.
You don't need a subscription.
It has all kinds of content for all tastes.
On Youtube, you need to log in with a Google account. Once logged in, you will automatically appear on the web and you will have created your own Youtube channel.
To host a video on our channel, click on 'upload'. You will be taken to a page where you can either drag your file directly into your browser from your computer or click on 'select videos to upload' and choose it from your folder.
You will then be shown three privacy settings options:
Public: means that it can be seen by all users of the Youtube community and will appear in search results.
Private: This means that it can only be seen by the people chosen by the author of the channel and shared by email, with a maximum of 50 people.
Hidden: the video will not appear as 'private' in the search results, but can be seen by anyone who shares the video link.
We can then modify the title, description, tags and category of the file. The changes are saved automatically and we only have to wait for the upload process to be completed.
4. Vudu – Chromecast app ideal for watching classic movies
People who are fans of new and classic movie titles can buy or rent them on Vudu. The unbeatable Vudu offers tremendous Chromecast compatibility that allows you to watch your favourite movies on TV.
The service is also equipped to give you access to its UltraViolet movie stock and to share with up to five friends. For those features and many more, Vudu has joined the Best Apps to Watch Movies on Chromecast list.
Why should you download it?
You pay only for what you watch.
Huge selection of content.
Available for multiple devices.
Simple and easy to use.
Enjoy on your Smartphone or Android Tablet the best new releases without paying monthly fees, just search, choose and watch your favourite movie.
The best new releases in the best quality.
You can download the movies you bought and watch them without being connected to the Internet.
With the same VUDU account, you can also access other devices such as Smart TV, laptops and Blu ray.
Different payment methods: credit cards, VUDU prepaid cards or Walmart Group gift cards.
You only pay for what you watch.
The ability to start watching the movie on one device and finish it on another, and even be connected to more than one device at the same time.
5. TED – Application for watching videos and learning on the go
TEDtalk videos are popular for ideas worth spreading that can transform your life. The official TED app contains thousands of TED conference videos that you can easily download and watch.
These videos feature the best and most inspirational talks on topics such as design, art, aesthetics, philosophy, philanthropy, intellect and more. The Chromecast app takes your level of understanding from the touchscreen to the big screen where the streaming is enhanced for a much better experience.
You won't watch trending movies and series, but you will watch videos of lectures where you will learn something and have interesting topics to share with your friends.
Why should you download it?
Inspirational videos worth watching.
It's totally easy to use.
It's free and has thousands of videos of different genres.
Satisfy your curiosity and expand your world with TED Talks. Explore over 2000 TED Talks from outstanding people, by topic and style, from technology and science to the surprises of your own psychology.
Features on Android:
Explore the full video library of TED Talks, with subtitles in over 100 languages.
Listen to episodes of the acclaimed TED Radio Hour podcast, a co-production of NPR and TED.
Download video or audio of the talks for offline playback.
Bookmark the talks for later playback.
Discover inspiring, funny or amazing talks, as well as selected playlists.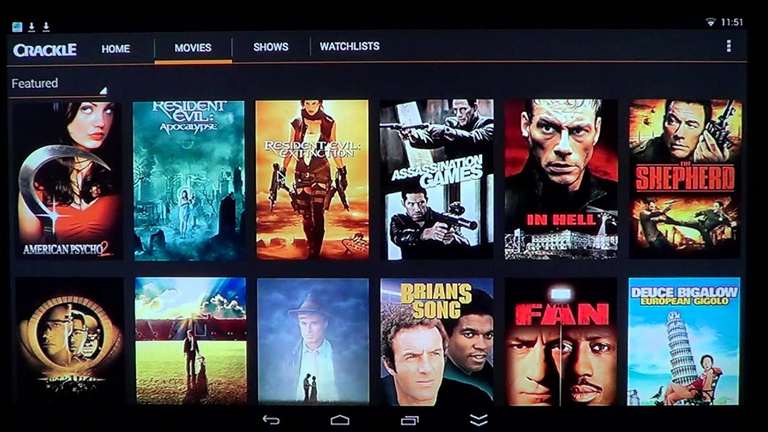 6. Crackle – Apps for watching TV shows and movies
Crackle hosts a rotating selection of TV shows and movies with ad-supported streaming content. Along with old episodes of TV shows, it also offers its original content from shows such as The Chosen Ones and Comedians in Cars Getting Coffee, which is hosted by the comedians from Seinfeld.
Why should you download it?
This service has many TV shows that other popular apps don't have.
It has original content.
It has parental controls.
Stream movies, TV series and Hollywood originals for free on your favourite devices. Wait, free? Yes, free, always and forever. Watch premium movies and TV shows from a full library of new and iconic hits. All on-demand, no subscription.
Set up a free account to watch fewer ads and pick up where you left off on any device. Filter genres like comedy, drama, action, suspense and fandom to find new hits and all-time classics. Complete your "Watch Later" list with all your favourite titles.
7. Videostream – Watch movies on any media file
Videostream is a powerful video streaming application that supports Chromecast functionality to play videos directly from your desktop to your TV. It squeezes the best of laptop or desktop technology to support over 400 videos with subtitles in the language of your choice.
In practical terms, the Videostream application can play any desirable media file in MP3, MP4 or MKV format.
It offers an optional subscription with a free player extension. Users can also subscribe to its lifetime package to enjoy additional features such as playlists and custom subtitle support.
Android and iOS users can also take advantage of its pair of mobile remote controls.
Why should you download it?
Unpublished content.
Parental controls.
Free to download.
Videostream allows you to stream local videos (downloads, etc.) from your computer to your Chromecast or Android TV in full 1080p! This Android app will remotely control Videostream, which is an easy to use Chrome app (get it for free at www.getVideostream.com). Now working on Android TV (Shield, Nexus Player, Sony, Sharp, etc.)!
They want you to be able to stream your videos wirelessly without hassle, WITHOUT installing a media server! Not tech-savvy, this is the Chromecast app for you!
8. WatchESPN – Great for watching live sports TV
Chromecast offers access to many individual sports league apps and, if you already have a cable subscription, you can use ESPN sports on TV, from the Android or iOS app. All you need is a subscription to a cable package that includes ESPN, and you can watch the free WatchESPN app.
While using this Chromecast-compatible app, you can watch live TV from eight ESPN networks.
Plus, you also have access to recorded shows and on-demand highlights of missed games.
Why should you download it?
It's the best app for watching sports.
The interface works very well.
You can access live and recorded content.
ESPN brings you the best in sports. Anywhere, anytime, ESPN App brings you to live events, the best videos, all the latest information and up-to-the-minute scores in one place, plus it's customisable to receive alerts for your favourite teams and leagues!
What is the best app to watch LIVE TV online?
This Google's gadget is revolutionising the world of technology and the way we watch our visual content. One of the advantages we can guarantee of this device is that it doesn't take up much space, unlike other similar streamers. The only thing we have to do to enjoy our device is to connect it to the HDMI input of our SmartTV and that's it.
What you have just read is our selected list of the best apps to watch movies on Chromecast for iOS and Android devices. The list is created based on popular trends and tastes in the world of mobile apps.
We'd love to hear which app you liked the most in the comments. We may have missed a couple of your favourite Chromecast apps when creating the list, so please let us know in the comments if you can help us out and let us know about those apps.