Electronics
7 Best Selling Portable Photo Printers for iPhone/Android
Many users who use their iPhone, Android, or other smartphones to take photographs, also wonder which are the best printers to print photos directly from their phone. Therefore, we have this list of the best compact and portable photo printers for iPhone and Android Phones, so you can print photos anywhere you want.
There are many printers on the market but not all of them allow you to print directly from smartphones and are not compatible with these devices.
Below you can see a selection of the best photo printers that are especially compatible with iPhone and Android models, and that also allows you to print high-quality photos, or to carry them around and print wirelessly wherever you are.
Best Selling Portable Photo Printers for iPhone/Android
1. Polaroid ZIP
The Polaroid ZIP printer is already a classic of small portable printers that offers Bluetooth and NFC technology, compatible to print with both iPhone and Android phones or tablets.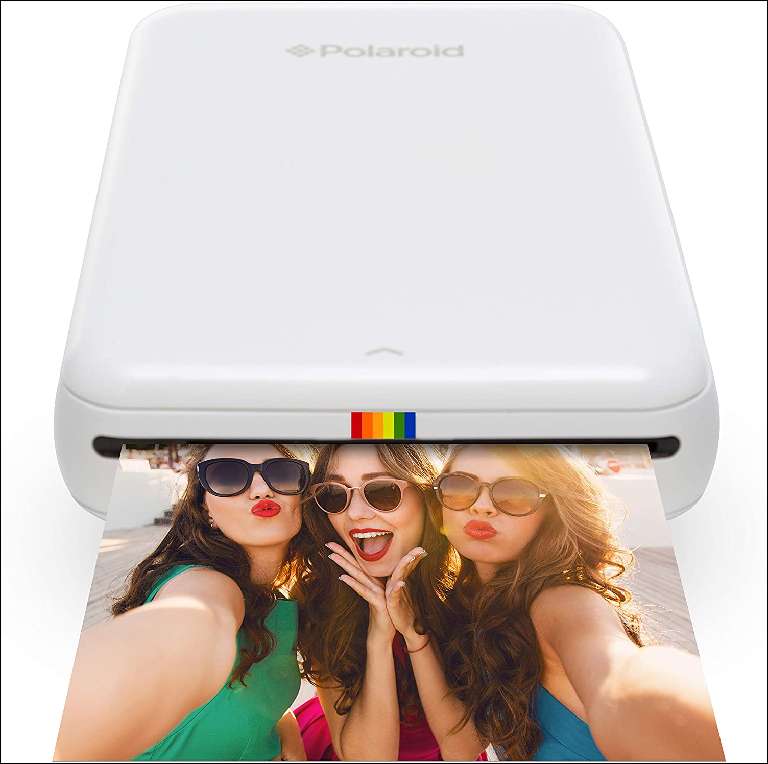 The printer is available in different colors and is very compact with a weight of only about 190 grams.
The photos of excellent quality have a small size, approximately 5 × 7.5cm, and are printed on ZINK paper, which therefore does not require ink.
Each charge contains 10 photos and the battery charge should last up to 25 photos, and then need another 1.5 hour USB charge.
You can immediately buy the Polaroid ZIP in 4 different colors, at the current available price of around $200 here.
2. LG PD233 Portable Printer
The LD PD233 printer is a small portable printer that allows you to print from Mobile devices via Bluetooth, and from those enabled with NFC technology. Compatible with iPhone and Android, together with the dedicated Pocket Photo App which also offers some basic editing tools.
The printed photos are 5 x 7.6cm in size at 313dpi resolution, and the printer has a battery that should safely last for 50 prints. Each refill contains 10 Zink prints, which therefore work without ink.
The LG PD233 printer is available for purchase and you can find it here.
The Fujifilm printer is small and compact and allows you to print high-quality photos wirelessly from iPhone and Android devices through the dedicated application.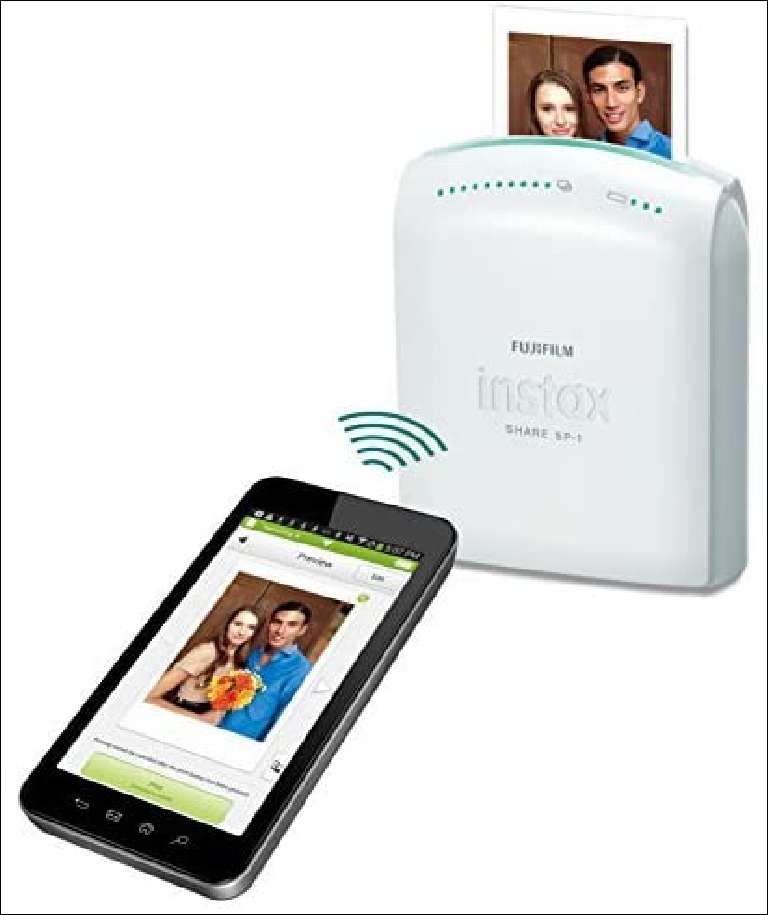 The photographs are 86x54mm in size with a wide border that sees the real image at a size of 62x46mm.
The print resolution is 254ppi, with a battery that provides a duration of up to 100 prints, replacing various chargers, each of 10 prints each. It is also possible to power the printer via cable with a food product to be purchased separately.
The print quality is very good, but the single cost is quite high. Interesting is the reprint option that allows you to quickly make multiple copies of the same photo through a button.
The Fujifilm Instax Share SP-1 printer is available here.
4. Impossible Instant Lab Universal
Impossible Instant Lab is a somewhat different printer than usual and works by placing your smartphone on the top, to then use a lens system that projects the photo at the base and prints it on paper.
The printer is currently compatible with iPhone and Android and works on devices with a high-resolution screen of at least 300ppi, and with updated operating systems, so you can use the dedicated Impossible Project App.
The latter offers the possibility to manage different screens, even allowing tablets to print directly.
The prints are of excellent quality and use a dedicated paper for Polaroid 600 and SX-70, in color and in black and white, which are however a little more expensive than average.
The printer recharges via USB, and weighs 460 grams, which still makes it portable, but a little larger than the more ultra-compact ones.
The Impossible Instant Lab Universal printer can be purchased here.
5. Canon SELPHY CP910 and CP1300
The Canon SELPHY printer is definitely an excellent product, compact and with high print quality that allows you to print photos from smartphones, also including AirPrint technology to print from iPhones and Apple devices without having to install any drivers.
You can print borderless photos as large as 10x15cm, or even smaller, and between paper and ink, each refill should last around 36 photos.
A special glossy or semi-glossy coating of your choice is added to the photos, able to protect the photos for over 1 century.
You can buy the Canon Selphy CP910 printer here, or it's an updated version Canon Selphy CP1300 which you can find here.
6. Expression Premium XP-6100 Small-in-One Printer
The Epson Premium printer is a printer that allows you to do multiple functions at a time and is equipped with WiFi technology allowing you to easily print from iPhone and Android.
With the double tray it is possible to insert both standard paper and paper dedicated to photographs, and also allows you to print front and back on CD and DVD labels.
This is already a larger printer and certainly not portable, but it can be a good alternative if you are looking for products as a middle ground, and not too expensive.
The Expression Premium XP-6100 Small-in-One printer is available in different models here.
7. Epson SureColor SC-P600
If you definitely want to spend more and print photos at home regularly, then you can consider purchasing one of the most popular printers on the market: the Epson SureColor SC-P600.
This printer is definitely expensive, both for the initial purchase and for the average of just over € 1 per print, but its quality is indisputable both for color photography and for the results in black and white images.
The printer has Wi-Fi Direct and Epson Connect connection, allowing printing even from Clouds.
You can print photos up to 33x48cm with a print speed of just 2 minutes, and it supports various types of paper for your images.
You can buy your Epson SC-P600 printer directly here.
Which Printer to Choose?
As you have seen, there are many different options for printing from your smartphone and the choice is certainly not easy.
In this selection there are different possibilities according to different uses; if you prefer something light and portable to always have with you, rather than something multifunctional to spend little, or of high quality to spend a lot more.
Then there are small printers designed for very small formats, but quick to obtain and easily portable to be used on any occasion. What will your choice be?