Computer
How to Recover Formatted Files from Hard Disk and Memory Card
Did you just suffer from an unexpected data loss due to a formatted hard disk or a memory card? If your answer is "yes", then this would be an ideal post for you. A lot of times, people format their SD card or external hard disk by mistake. Needless to say, this results in the loss of the stored information in it. There's no need to worry if you've just formatted the hard drive and lost your data. In this tutorial, we'll help you recover deleted files from formatted hard disk/drive and memory card.
Therefore, you would need to use data recovery software in order to get your lost content back. In this post, we will tell you how to do photo, audio, or video recovery from a formatted source like a true professional.
Why a hard disk or an SD card gets formatted?
Ideally, there could be different reasons for an SD card or a hard drive to get formatted. It is important to understand this so that we can avoid a similar situation again.
Sometimes, users accidentally format their SD card or hard disk, leading to the loss of data.
The data source can get corrupt and would ask you to format it before using it.
A malware attack can also corrupt the storage, leaving no other option but to format it.
If the file system of the disk has been tampered with, then you would have to format it in order to use it again.
Apart from that, there would be several other issues leading to the formatting of your data source as well.
Recover data from a formatted source with Wondershare Recoverit
If you think that the lost content from a formatted disk can't be retrieved, then you should try Wondershare Recoverit. One of the best hard disk and SD card video recovery tools out there, it can yield positive results in different scenarios. This includes the deletion or loss of data due to a formatted data source as well. Some scenarios that it supports are accidental deletion, virus attack, corrupt storage, etc.
The basic version of Recoverit is available for free, which can recover up to 10 different media files of any size.
The tool can recover photos, videos, songs, and all the common data formats. Some popular formats that it supports are JPEG, MOV, MPEG, AVI, PNG, FLV, and so on.
You can first preview the retrieved content and selectively restore it to a trusted location.
The data recovery tool can extract content from a system's internal drive or a connected source like SD card, USB drive, MP3 player, external hard disk, etc.
The tool supports leading Mac and Windows system, including macOS X 10.8+ or Windows Vista, XP, 7, 8, and 10.
How to recover data from a formatted card or disk?
With the help of Wondershare Recoverit, you can easily perform hard disk or SD card video recovery. All you got to do is follow this basic click-through process.
Step 1: Connect the formatted source
Firstly, you need to connect the formatted disk, card, or any other data source to your system using a working cable. Once it is detected, launch Recoverit and select the target location (the formatted unit) to continue.
Step 2: Scan the location
The application will automatically start scanning the selected data source. Just wait for a few minutes for it to extract the relevant content from the connected unit.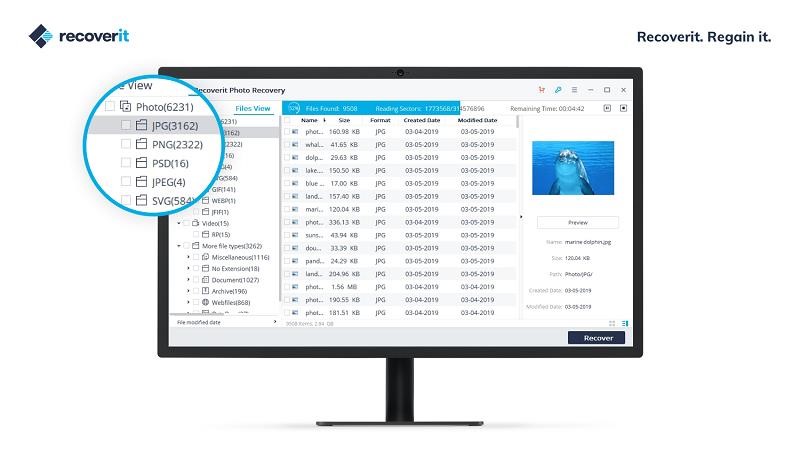 Step 3: Preview and recover your files
When the process is completed, you can get a preview of the retrieved content. It will be segregated into different categories. You can just preview the data, select the relevant files, and restore them.
By following this basic three-step process, anyone can do photo or video recovery using Recoverit. It is a highly recommended data recovery software that is used by professionals. Now, with its freely available version, anyone can retrieve data from a formatted disk or SD card as per their convenience.