Mobile
Enter Recovery / Download Mode On Samsung Galaxy S21
Two of the most popular modes in Android for installing software versions and accessing advanced features are Recovery mode and Download mode. By the very nature of the system, these modes are present on all Android phones. This is the case of the Samsung Galaxy S21 in its three available versions: S21, S21+, and S21 Ultra. Therefore, to help you out, we have this guide on how to enter recovery mode and download mode on Samsung Galaxy S21, and it's all variants.
Whether you're just an ordinary user or mobile developer, there would be a time when you would seek a method to enter these two modes. Being an open-source operating system, Android offers plenty of facilities and opportunities for developers to build useful applications, and bring more features. And for end-users, this OS offers several access and abilities. Recovery and Download modes are among them. We can use these modes to make changes to the operating system like performing a hard reset, update the existing firmware, install custom firmware, and third-party modes.
Are you concerned about the warranty of your device while getting into the recovery and download mode on your Samsung Galaxy S21? Then you would be happy to know that booting into these modes won't harm the warranty of your device in any way. However, if you're rooting or putting custom firmware or recovery image, that may void the warranty. So, you better read off the terms and conditions before proceeding to such actions. Now, we should go ahead and see how we can get into the recovery mode and download mode on your Samsung Galaxy S21.
How To Enter Download Mode On Samsung Galaxy S21
Accessing the Samsung Download mode does not differ from other models of the South Korean manufacturer. This mode is designed to install an official Samsung ROM or to reset the data of the active ROM.
To enter this mode, the first thing to do is to turn off the phone completely and then connect it to the computer. With the phone turned off, press and hold the Power and Volume – buttons until the phone displays a blue screen with the name Downloading.
If we use a program compatible with the cell phone, we can proceed to reset the official ROM data or install a new ROM. To exit the menu, we can reboot the device following the usual process. It should be noted that if we decide to interrupt the shutdown during the installation of any, most likely the phone will be unusable, causing a brick that has no solution.
How To Enter The Galaxy S21 Recovery Mode
The way to access the Samsung Galaxy S21 Recovery mode is similar to the one we have just described. With the phone turned off, we will use a USB cable to connect the device to a charger or PC. Now we just have to press the Power button and Volume + to force the terminal to start in Recovery mode or Recovery.
Finally, the mobile will display a whole string of options to perform certain advanced actions. To move between the different options, we will have to use the volume buttons. If we want to accept an operation, we will have to press the Power button.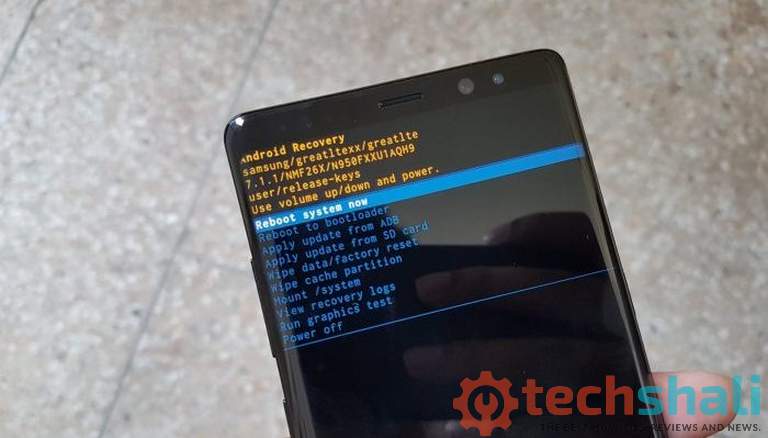 As for the available options, here is a brief explanation of each of the functions:
Reboot system now: reboot the system to access Android.
Reboot to bootloader: reboot the system to access the Recovery menu.
Apply update from ADB: apply updates from ADB commands through a computer.
Apply update from SD card: apply updates from a memory card or external device connected to the phone.
Wipe data/factory reset: reset all phone data (applications, images, memory contents, Internet accounts…).
Wipe cache partition: reset Android cache.
Mount /system: mount the /system folder to access the phone contents from the Recovery menu.
View recovery logs: view the Android access history.
Run graphics test: run graphical diagnostic tests.
Run locale test: run local diagnostic tests.
Power off: turn off the phone completely.
It should be noted that all actions performed through this mode are irreversible, so we will not be able to recover data if we decide, for example, to reset the phone completely.
That ends this guide here that offers necessary steps to access recovery and download mode on Samsung Galaxy S21. We hope that Galaxy S21 users would find this tutorial helpful. If you find any trouble, drop your comments below, so we can get back to you with the answers to help you.