Featured
How to Download Videos from YouTube [The Easy Way]
YouTube is the most popular video platform around the world due to the amazing collection of clips, movies, trailers, music, and videos. Started by the PayPal team members, YouTube has become the second most popular search engines after Google. Nowadays, people are more often to search for information, tutorials, and media-related news through YouTube. And of course, we get many advantages of watching videos over reading or looking into the pictures. In this tutorial, we'll help you to download videos from YouTube through the easiest method. For that purpose, you don't need to install any kind of application or software program on your phone or computer.
There can be many reasons to take videos offline. Most importantly, you can play those videos anytime and on any device that you want. Though YouTube provides an option that helps to offline download some videos, but this ability will restrict you from play those videos any other device. It usually happens that we play some videos again and again. Since YouTube doesn't offer the download facility to users, there are plenty of third-party apps, websites, and software available for that purpose. During this tutorial, we'll use a website that serves this purpose very well.
Alldownloader.net is a superb website that allows users to download your favorite videos with different formats from YouTube in a hassle free way. Since this is a website (not an application), you can use this website to download videos directly on your phone, computer and any other device that supports the Internet browser. Through this website, it is very easy and simple to download YouTube videos in different formats like MP4 and 3GP formats with sound and no-sound select option. Apart from that, you can use this website to download Facebook and Instagram videos.
This YouTube downloader makes simple to download videos from YouTube and other videos sites. The user needs to input the URL of the video. Thereafter, users could selectively download that video in different qualities and formats. Along with that, this website displays that size of the file that users would download. That really helps users to download videos precisely. Further, users can download that video with sound and no sound. If you're downloading videos for making a collection or list-alike work, you might want to download videos with no sound.
The user-interface part is quite simple and easy to understand. Users just need to open this website https://Alldownloader.net (or you could bookmark it, so you can open it quickly whenever you want) on the Internet browser and then enter the URL of the video that you want to download. Thereafter, you will get further options regarding the availability of the quality and format. Here's a quick tutorial on how to download YouTube videos easily.
How to Download Videos from YouTube
This website is pretty simple to use. Since this is a website not an application or software program, it can be accessed from anywhere and any device. So, whether you're using a smartphone or laptop, you can download the YouTube videos using it.
You just need to visit this link your device: https://alldownloader.net/ to open the website. It looks like this: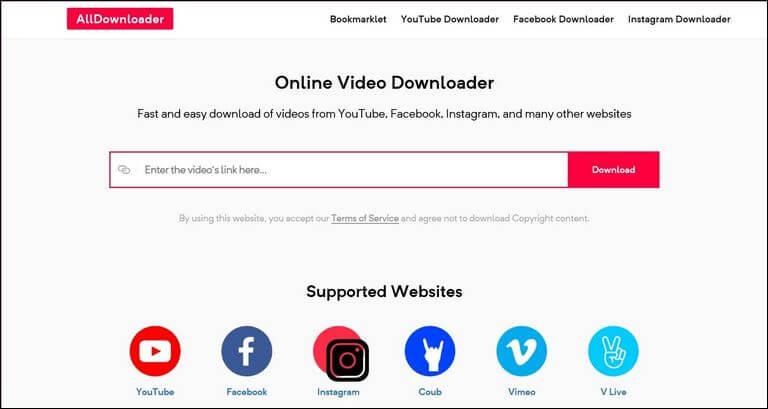 The video converter website most popular media sites. Thus, you can download your favorite videos right from this website.
Now, you just need to enter the URL of the YouTube video. If you've been using the YouTube application, just tap on the share button and then tap on 'Copy Link'.
If you're using a web browser, just copy the link from the URL bar.
After that, just tap on the 'Download' button.
The next screen displays the available downloads. As discussed above, either you can download video with sound or without. That categorizes the downloadable videos further.
For this particular YouTube video, these download options are available. The table above brings more information about the quality, format, and size of the video.
Thus, based on your requirements, you can download the video.
Also, you can choose a video with no sound.
For some reasons, we figure that for this particular video, there were multiple versions available under the no-sound section. If you're planning to download multiple videos and merge them into one, with no sound videos are recommended. You can easily set custom sounds and music.
Once you make your mind clear about size and format, you can tap on the 'Download' button. If you're using some sort of Internet download application, program, or application, the video should start downloading instantly.
Or else, the video will be played in a new tab. To download that, you just need to right-click on that video or mobile users, just press and hold the video while it is playing.
A pop-up menu will appear, just tap on 'Save video'. Then, select the location (on a computer) and that's it. You've successfully downloaded a YouTube video on your device (phone or computer).
That's a pretty quick way to download videos from YouTube. Most importantly, there's no restriction or registration. You can use this website without any disturbance.
Methods to download videos from YouTube on Mac
For those who face a problem in downloading videos from different platforms on Mac, VideoDuke is the top video downloader for you. In case if you don't know how, let us help you out. Here are a few of the steps in which you can actually download videos from YouTube using VideoDuke.
How to download MP4 videos from YouTube on Mac?
Following are the steps that one needs to follow in order to download the videos from YouTube on Mac.
The first and foremost thing you need to do is to install the VideoDuke app on your device.
Once you have downloaded the application, launch it and then go to the YouTube section by clicking on the main app's section.
After that, go on to browse for the videos that you like. Search for the videos and once you have selected one for yourself, come to the VideoDuke app once again.
The moment you select one video for yourself, the VideoDuke app will display it on their video tab. Now, if this is happening in front of you, then you need to go and change the format of your videos in MP4 format.
The step that you did last was very important, as it is the final step before you start the downloading procedure.
Now, if talk about the downloading procedure precisely, then you need to go to your desired video section and then copy the link of it. For the actual download process, you need to copy the link in the app and then click on download.
If you wish to change the location of your videos, then you should do it before you go for the final download.
One of the best things about VideoDuke is that it could download the captions and subtitles too. So, if your video contains any such thing, then you do not need to worry for the download as it will be downloaded by itself.
That ends our tutorial here that explains how to download YouTube videos through the Alldownloader.net website. We hope that our readers would find this tutorial helpful. Don't forget to share your thoughts and views on this. We would love to hear from you and bring more useful stuff.