Finance
Zinli: The New Virtual Wallet For Sending And Receiving Payments
Digital wallets have become the new trend for making payments worldwide, because they allow a fast exchange of fiat money without geographical limitations. Although there are thousands of options on the market such as PayPal, Zinli and Zelle, only one allows sending and receiving money without the need for a bank account: we are referring to Zinli, the new multi-purpose virtual wallet that seeks to conquer the continent.
Virtual means of payment continue to grow rapidly in most countries, allowing you to send or receive money from anywhere in the world online. This feature has been of vital importance, as it has facilitated the incursion and growth of online merchants, who were previously limited to traditional banking. Currently, services such as Zinli allow the sending and receiving of funds without the need for the recipient to have a bank account, which is a considerable advantage compared to similar services such as PayPal, Neteller or Zelle.
However, these are just some of the reasons why it is an excellent alternative to consider. Next, we will explore in depth what Zinli is, how it works, what commissions it handles, how to receive money in Zinli from bank accounts and other online services, make a Zinli withdrawal, the main advantages of having this service and clarify frequently asked questions such as whether it is possible to send money from PayPal to Zinli. Let's get to know everything about this virtual wallet!
Zinli: What is it?
It is a free virtual wallet, designed as a mobile application, available for devices with iOS and Android operating systems, has been created by the company MFTech S.A., which is a subsidiary of Banco Mercantil de Panama, which allows its customers to recharge the wallet without commissions through bank branches. Using Zinli, we can transfer dollars quickly and securely to any user who has an account on the platform, making it a great alternative for international remittances without the currency losing value. Unlike platforms such as Reserve, Zinli does not require the intervention of third parties to function, so the money is seen between users directly and instantly.
One of the most notable features of Zinli is that it does not require registration of a credit card or bank account to operate. In other words, to start using the application, all you need to do is register with a valid email address, a password and top up fiat money using one of the methods provided by the application.
On the other hand, the platform offers its users the option of requesting a prepaid virtual card with which they can pay for purchases made in e-commerce, buy online games, pay for subscriptions to streaming platforms or verify PayPal, which is one of the main attractions of this wallet, as it allows users to send PayPal dollars to Zinli, making it one of the few applications enabled to carry out this action. The developers also announced that they would soon enable a section to request a physical card, which can be used at any of the 46 million merchants affiliated with Visa.
For now, Zinli does not allow currency transfers from its platform to Panamanian or other countries' bank accounts. However, its creators are evaluating the possibility of enabling this function.
Zinli: How does it work?
Four months after its launch, Zinli is still in its initial phase, so for the time being it is only possible to make purchases in e-commerce and send dollars between registered users of the platform. Even so, the way in which the service carries out these actions is simple but effective, as it relies on the P2P exchange of the main international currency. In addition, its virtual prepaid visa card allows users to make multiple payments in different e-commerce, such as:
Shopping at e-retailers, such as: Amazon, Walmart, Dick Blick Art Materials or Wish.
Paying for any of the current streaming services available: Netflix, Amazon Prime Video, Disney+, Spotify or even SimpleTV.
Buy video games on Steam, Xbox Live, PlayStation Store or Nintendo eShop.
Buying special packages on titles such as World of Warcraft, Fortnite or League of Legends.
Paying for advertising on social networks, such as Instagram, Facebook or Twitter.
Make payments in fast food franchises with delivery, such as: Yummy, Rappi or PedidosYa.
How to receive money on Zinli: Registration and steps to follow
Receiving or sending money on Zinli is extremely simple, as users only need to perform a minimum number of steps in order to have their currency transferred. However, to carry out these actions it is necessary to meet the requirements and be duly registered on the platform; as we will see below:
Zinli registration requirements
The requirements for registering can be completed in a matter of minutes, so most people will be able to complete the process quickly:
Be of legal age.
Have an iOS or Android smartphone that is compatible with the version of the application.
Possess an email address that is not previously registered on the platform.
Panamanian or Venezuelan identity card. Users of other nationalities will have to provide a photo of their passport, so that the Zinli team can accredit the identity of the person outside their country. It should be noted that Venezuelan users who register using their identity card can move a maximum of $500 USD per transaction, while those who register with their passport can use the platform's maximum limit of $1000 USD.
Photograph of the ID card and a selfie for the platform to verify the authenticity of the same.
Register on Zinli
Once you have the above requirements in hand, you can start the registration process on the online platform:
Access Google Play or Apple Store and download the official Zinli app on your mobile device.
Open the app and fill in the form, which will ask you to enter your email address and a phone number.
Enter your email address and look for an email from Zinli, it will contain a verification code.
Enter the password you will use to access your account once it is created.
Scan your ID card or passport using the tool provided by the application.
Record a video selfie of yourself holding your ID card, as prompted by the system.
That's it, you are now a formal Zinli user!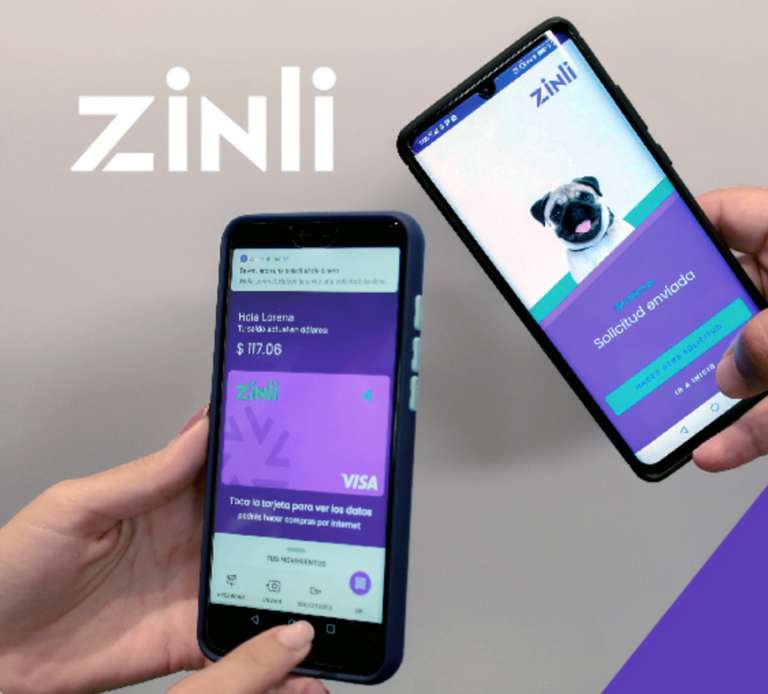 Receive or send money with Zinli
With an intuitive user interface, the process of making transfers is made even easier, which greatly simplifies the steps involved in sending money. It should be noted that, at the moment, the only currency that can be transferred is dollars.
Log in to the Zinli application.
Click on the Send option, which you will find in the bottom menu of the screen.
Select the contact to whom you wish to send the funds. If they are not registered, you can enter the e-mail address with which the recipient is registered in Zinli.
Enter the amount to transfer.
Optionally, you can write a note to the recipient.
Confirm the transfer.
That's it! That's how quick and easy it is to send funds to another user.
Zinli withdrawal: Commissions
Zinli is a free virtual wallet, in the sense that users can register without paying any set-up or renewal fees. In addition, the platform has no maintenance fees; therefore, funds deposited will remain intact until they are passed on to another user.
However, the transactions made must pay a commission of 1% of the total amount + the ITBMS (Tax on the Transfer of Material Goods and Services); in accordance with Panamanian regulations for financial services.
Taking into consideration the above, we could exemplify it in the following way: If you send $100 USD + 1% commission + 0.07 ITBMS = $101.07 USD. Therefore, you would have to send an additional $1.07 USD to have the full base amount.
Zinli: Benefits of using this virtual wallet
By themselves, virtual wallets offer multiple benefits to the people who use them, allowing them to streamline transactions. However, other alternatives have a series of requirements that make it impossible to fully enjoy the service, unlike Zinli, which has special features:
Anyone can use the service. In addition, Zinli allows you to send and receive dollars from anywhere in the world.
It is possible to create an account on Zinli without having to enter bank details, a feature that differentiates it from applications such as Zelle.
Transactions made on Zinli are commission-free, allowing you to send and receive the same amount of money without currency losing its value. This is a great benefit compared to PayPal's fee.
Unlike wallets such as Neteller, Zinli has no maintenance fees, so you can be sure that your funds will remain intact.
The application is 100% online, which means that you will not have to go to a bank to perform any action.
The requirements to create an account are minimal, you only need an email address, a passport of any nationality, or a Panamanian or Venezuelan identity card.
Transfers are made instantly, free of charge and without intermediaries, so it can be perfectly used as a means of payment in local or international electronic commerce.
Since there are no fees for sending money, the service can be used to send remittances to people in other countries; they only need to have a Zinli account.
Users can issue tickets to request payments to other users.
It has an intuitive and easy-to-use user interface, so anyone can make payments quickly and securely.
In addition to enjoying the benefits of the virtual wallet, users will be able to apply for a Zinli International Virtual Visa Prepaid Card, with which they will be able to make purchases at all Visa-accepting e-merchants. In addition, the Zinli International Physical Visa Prepaid Cards will soon be available, which will probably be used internationally to make payments with US dollars and to top up the wallet.
Zinli's Virtual Visa Prepaid Card can be used to verify PayPal, which is an excellent alternative for users who do not have a credit card with access to foreign currency.
Its state-of-the-art design allows you to receive and make payments by scanning QR codes.
Zinli is developed by a team looking for FinTech solutions, so its improvement will continue over the months.
Users do not have to top up their Zinli account using foreign currency; it automatically converts their local currency into dollars.
The wallet uses a state-of-the-art security system, so users who lose access or misplace their data can easily lock and unlock it.
Countries where Zinli can be used
Although statements on Zinli's official website make it clear that the service can be used anywhere in the world, as long as you have a smartphone and an internet connection, the reality is that it is only available in 30 countries. However, no official channel clarifies which 30 nations have permissions. Even so, we can corroborate that it is possible to use Zinli without any inconvenience in the following countries of the American continent:
Panama
Venezuela
Peru
Paraguay
Chile
Uruguay
Argentina
Brazil
Mexico
United States
Canada
Zinli: Frequently asked questions
Most people who are familiar with Zinli often ask questions about how it works and how to send money. Here are some of the most frequently asked questions:
1. What currency can I use on Zinli?
The official currency of the platform is the dollar, which is used for any type of transaction. When you top up your Zinli account with our local currency, it will be automatically converted to dollars according to the Panamanian conversion rate.
2. How much money can I have on Zinli?
Users registered using a passport will be able to store up to $1000 in their account. However, those who register with an identity card will only be able to store $500.
3. Can I transfer my Zinli balance to a bank account?
Not at the moment, as the platform only allows you to send money between Zinli users. However, it is possible to send money via the prepaid visa card.
4. How do I top up my Zinli?
The easiest way to top up a Zinli account is through a deposit at Banco Mercantil de Panamá, because it will be transferred in a timely manner and without commissions. At the bank, the minimum amount to top up is $10.
However, foreigners will be able to top up using international Visa or MasterCard Visa or MasterCard international debit or credit cards. In addition, it is also possible to also possible to top up using other services such as Binance Pay (using the USDT), Zelle, Reserve, AirTM and Uphold.
Although still in its early stages, Zinli has shown promise in facilitating currency remittance for the unbanked, meaning that virtual wallet technology could, in the future, seek to decouple itself from reliance on banks. Although the platform does not yet have some important functions, the development team has been particularly focused on launching updates to improve the service as soon as possible; so in a few months it could enable those features so longed for by its users.
On the other hand, Zinli in Venezuela has a special relevance, as the tools present on the platform can considerably facilitate financial transactions for Venezuelans. This is because it allows people who do not have a bank account abroad to access virtual Visa cards with which they can make e-commerce purchases or pay for online subscriptions.
Using it, they have the option to verify a PayPal account using their own Visa card, thus avoiding the need for the services of a third party, as well as enabling the option to send money from PayPal to Zinli. Additionally, Zinli is an excellent alternative to use as a mechanism to send dollarised remittances, as the commission will not affect the total amount received and recipients can easily use the Zinli withdrawal.
Finally, it is important to note that users do not need to buy dollars to top up their Zinli account; as the local currency will be automatically converted into dollars to speed up the process of purchases and payments. With this, virtual wallets such as Neteller, PayPal, Zinli and Zelle are likely to continue to become more and more established in our daily lives.