Internet
The best 7 Microphones to RECORD YouTube Videos
To achieve success on YouTube, in addition to good content and the creation of a community, you must have work tools that ensure the quality of the presentation, so in addition to a good camera, it is necessary to have a microphone for Youtubers. Therefore, we have this list of best microphones to record your YouTube videos for the best audio quality.
Currently, most of the video cameras that YouTubers use have a built-in microphone, but the audio quality of these is not the most adequate, so it is advisable to acquire some of the best microphones to make videos that we will know below.
Importance of using a Good Microphone
For any Youtuber, having a good microphone is a factor that brings professionalism to the content. Currently there are devices capable of offering excellent image quality for streaming, but in terms of the microphone, the audio results may be better.
With the rise of videos all over the web, consumers have set standards and benchmarks, mediocre audio can ruin any video no matter how good it is. Therefore, having crisp and clean audio is increasingly important to win over the audience.
Points to consider when buying and using a microphone to record videos
The connection: We must take into account the type of microphone connection, check if it is USB, as it allows greater compatibility. Or you can use adapters to connect to Windows and Mac OS computers.
Audio quality: The microphone ratio should be around 100 DB and if the impedance is around 32 ohms the sound will be more accurate.
Compatibility: It could be chosen to be Plug & Play compatible.
Usability: Check that the microphone can be placed in different positions without affecting the quality of the audio, in this way you will have the right place to capture the best sound.
Lapel Microphones: These are small microphones that are attached to the speakers' shirt, useful when moving a lot during the video, they should be located more or less about 15 cm from the chin.
Shotgun Microphone: Captures sound from the front and rejects sound from other directions, can be hidden in shots and makes voices sound close and clear.
The Environment: The recording area is important, as it is difficult to eliminate ambient noise after recording. Therefore, it is recommended to choose a place without strong ambient noise, move away from the air conditioner, find a shooting location that can control ambient noise.
The 7 best microphones for YouTubers
Here are some recommendations for the best microphones to make videos:
1. SOONHUA condenser sound microphone
This kit is that it works on any appliance with a 3.5mm female connector. You do not need any additional driver. The chip in the condenser microphone allows the sensitivity to be increased and background noises to be filtered out for a clear and loud sound.
Its design and size is compact, therefore, it does not take up much space and is light, in addition, it includes a filter that helps with noise reduction, preserving the natural quality of the voice. It has a sturdy, folding stand that allows it to be stabilized on a desk. It is perfect for use with online games as they can be streamed on Twitch or any other video platform. Ideal to use with online chats and of course it is an excellent microphone for Youtubers.
It is compatible with Windows, Mac, Linux OX and can be used with PC, Tablets and smartphones.
You can buy it on Amazon here.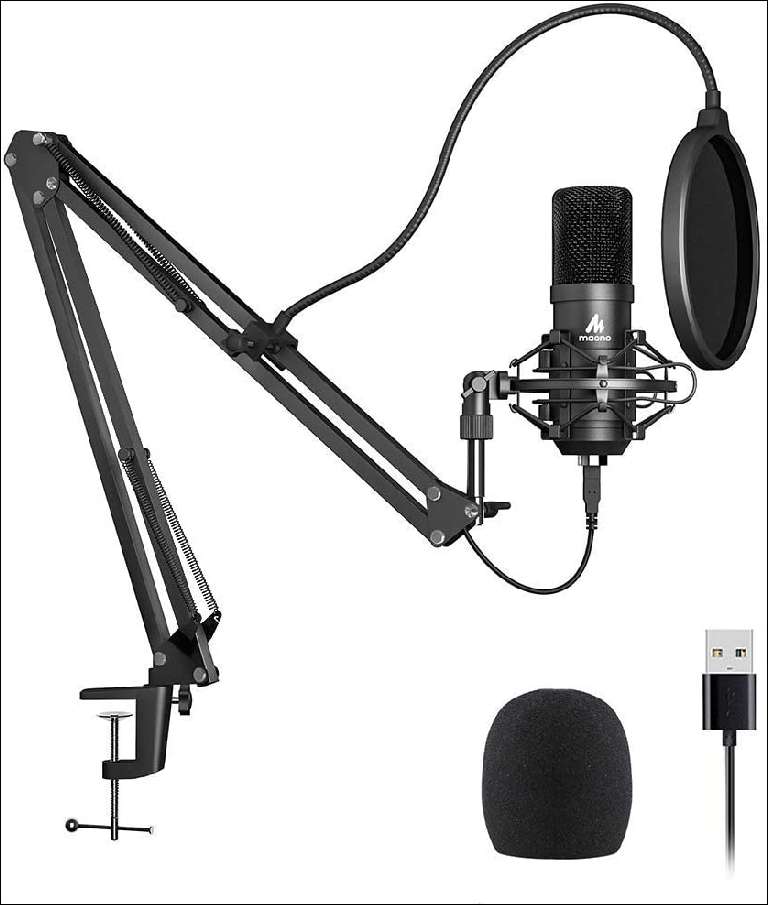 2. USB Cardioid condenser microphone kit
This microphone offers professional sound with a high sample rate and high resolution. To use it, it must be connected to the computer without any additional programming, its USB cable is double-shielded to reduce interference, therefore it is perfect for any type of recording.
It is very stable thanks to its shock-absorbing support and its adjustable scissor arm, which is very resistant. Additionally, this kit includes a pop filter and a foam windscreen, it is fully compatible with any operating system, laptops and PCs, but connecting with a cell phone requires an OTG adapter.
It is a perfect microphone to reproduce any type of sound, even the most subtle. It is one of the best microphones for making videos that can be easily found on the market.
You can buy it on Amazon here.
3. Pyle PDMIUSB50 recording condenser microphone
It works with a USB plug and play, to use it it must be connected to the USB port, selected as an input in the configuration and that's it. It comes with an easily adjustable metal bracket up to 180º. It has a lighting detail that lights up when connected to the computer's USB port. Excellent quality articulation can be achieved with this equipment, perfect for field recording and loud use. It is an ideal piece of equipment to capture music from any audio source.
This universal model is ideal for use in streaming and audio recording, podcasting, streaming games, recording audio edits, online conversations and as a microphone to make YouTube videos.
It is simple to use, it can be used as a portable microphone with its detachable tripod. It is compatible with Windows XP, Windows Vista, 7,8 and 10, Mac OS and Linux.
You can buy it on Amazon here.
4. Fifine USB condenser microphone
It connects directly to the USB port of the equipment, it can be used to record podcasts, music, videos, chat, among others. It has an additional button to control the volume level, it has a strong and sensitive output, which makes the voice heard very well when playing games or recording.
The microphone offers high quality recording, works with any communication software and platform, so additional drivers are required. It is perfect for YouTubers, as it collects voices and leaves background noise out of the audio being recorded, the volume control allows you to adjust the voice input.
It is compatible with Windows, Vista, XP, 2000, and Mac OS X. It is completely made of metal and very easy to transport. The recording quality offered by this microphone is very clear and sharp.
You can buy it on Amazon here.
5. Pyle PDMIKT100 Microphone Recording Kit
It's ideal for all uses from studio voices to gaming, including streaming, podcasting, and desktop recording. It is fully operational with Windows PC, Mac, and Linux. It works with plug and play, just connect to the USB port of the computer or laptop, select as input in the software configuration and
It is solidly built and very stable thanks to its adjustable stand. Additionally it comes with an adjustable Gooseneck Pop filter that eliminates noise to improve a clearer and more precise voice capture, it comes with its shock mount, detachable USB cable and an aluminum storage box or travel case to transport it. It is made of metal alloy and iron base.
You can buy it on Amazon here.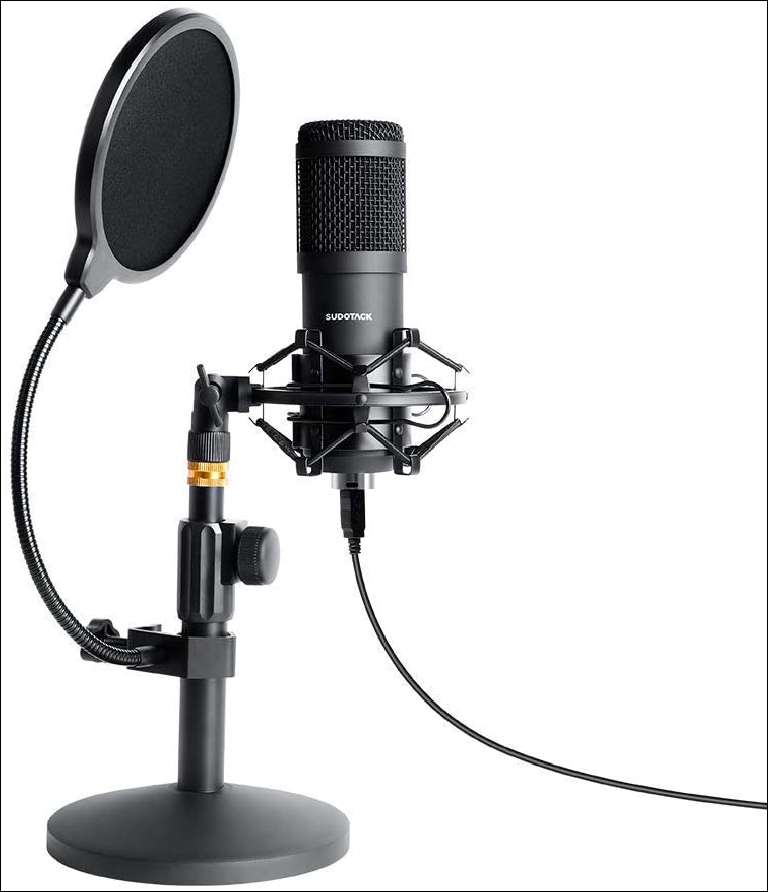 6. Sudotack PC Microphone
This microphone delivers a sample rate of up to 24-bit / 192KHz, so all your recordings will be crystal-clear. Sound captures are very accurate, as it records sounds directly in front of it, reducing background noises.
It only needs to be connected to the computer port and it works immediately, it does not require any additional drivers. It is compatible with Windows and Mac OS operating systems, it can be used in a cell phone but it requires an adapter that is not included.
The microphone has its shock mount, a table clamp, windproof foam cap, USB A and B cable, and a pop filter. All of these accessories help you minimize noise. The characteristics of this microphone make it perfect for all kinds of uses such as streaming, podcasting, online conversations, game streaming and it is one of the best microphones for recording YouTube videos.
You can buy it on Amazon here.
7. Sudotack ST-800 microphone with USB transmission
This microphone offers a sample rate of up to 24-bit / 192KHz, so recordings will be crystal clear, will provide excellent sound quality with Hi-Res Audio, and connects directly to your Mac or Windows computer, with no additional controls.
This kit comes equipped with a condenser microphone, adjustable stand, shock mount, table clamp, pop filter, USB A to B Cable, and the foam windproof cap.
It is the best microphone for Youtubers as it simply makes the voice feel smooth and pleasant, perfect for podcast recording and live broadcasting anytime, anywhere. It can be used with any type of computer thanks to its USB connector and it will work perfectly.
You can buy it on Amazon here.
Our final recommendations
Before finalizing, the following must be taken into account:
To record a podcast or stream, it is recommended to use a cardioid microphone that is simple and comfortable.
If you plan to record outdoors, you will need a shotgun microphone to direct the sound and rule out background noises.
To record different voices in a closed environment, like a radio interview, it is advisable to use an omnidirectional microphone, it will allow you to capture all the sounds present in the place.
To record a person in an interview, using a lavalier microphone with a discreet design is ideal, they are usually Omni-directional.
Any of the microphones on the list is perfect for recording YouTube videos, you just have to choose the one that best suits your needs and budget.
The microphones to record videos may vary depending on what is to be recorded, it is important to know this information and be sure what you are going to record before making a purchase.
We hope this little guide is helpful in choosing the best microphones for recording videos. Good luck with your decision and may you choose the perfect one for you.