Electronics
5 Shortlisted Choices as Top-Notch USB Audio Interfaces for Musicians and Podcasters in 2021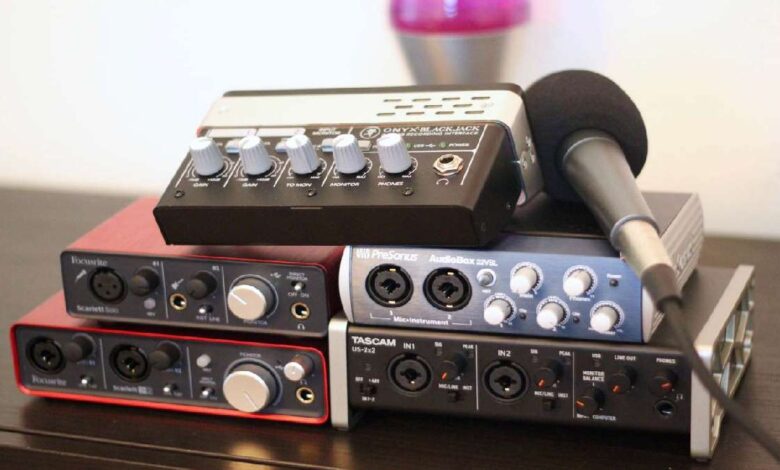 An audio interface is necessary for converting audio signals from analogue to digital. And, currently, podcasts are getting popular day-by-day for chat-shows, daily news, science fiction, culture talks, music and everything in between. Apart from podcasters, musicians have to experiment and bring out the best of their recordings on their computer. The advantage of having a USB audio interface is that you can get improved sound quality when compared to a sound card.
However, the search for the best USB audio interface might depend on your potential audio requirements and range of input and output. In case, you want to achieve something big in the competitive world and fulfil your dream as a musician or podcaster, then you should purchase a USB audio interface. Here are some of the globally recognized and expert-recommendations among the best releases in USB audio interfaces.
1. Focusrite Scarlett 2i2
In case, you're looking for overall preferences such as powerful physique, easy set-up and enhanced audio quality, then you can't deny this masterpiece. Focusrite Scarlett 2i2 is your perfect go-to companion, irrespective of the fact, whether you are a podcaster or musician.
The build appears sturdy with classy metallic elegance. As an additional advantage, this model is more compact than its predecessor. This is a second-generation audio interface where you can avail 2-in-2 interfaces.
If you have to record two individuals' voices on two different mic preamps or instrument playing, then it's the fundamental interface that you should have. Meanwhile, the audio interface has got a 24-bit AC/DC converter. There's a gain control key that indicates a red light when you need to adjust it.
According to the performance, the audio interface is capable of transfiguring 192kHz audio without any noise or interruption. Indeed, you can have an eye over the recorded sound as stereo or mono depending on the connected best XLR microphone or stereo one. Moreover, the interface allows you to gain control of both the headphone and XLRs.
2. Universal Audio Apollo Twin MKII Solo
The name of this USB audio interface might confuse you as it states both the term 'twin' and 'solo'. This audio interface is literally built for music composers or singers. However, it has got two lines/mic preamps. You can record your voice on an input port while you can set the instruments on the other input.
If you're just a beginner and want to record sound in your home studio, then there's hardly any match to Universal Audio Apollo Twin MKII Solo. In addition to this, you can avail plenty of options for plugins and that can create sweeter melodies. LA-2a, Pultec EQP-1A, Amp Room Essentials, 1176LN and similar hardware emulations are there with this USB audio interface. Interestingly, this interface has got a talkback mic, built-in.
3. Zoom U-44
Podcasters mostly demand a compact and portable USB audio interface for on-the-way recordings and adjustments. Zoom U-44 is such a mobile audio interface that it can fit in your palms easily. Powering on this interface is possible with both AA batteries and bus power. Interestingly, you rarely need to carry a host device when you entrust this device. Moreover, the interface can supply power to your best XLR microphones.
Considering its input and output interface, then it has 4-output and 4-input ports. If you're with XLR microphones, then having Zoom U-44 is definitely a perk for any creator. Recording interviews, music or live discussion is no stress when you have Zoom U-44. Connect it with your PC, MacBooks, or iPad, or else, you can use it as a stand-alone device too.
The quality mic preamps allow you to record up to 24-bit. On the other hand, you can access independent gain control on both input combos. Input 1 helps in keeping up both MIDI I/O and Hi-Z for better synchronization.
4. PreSonus AudioBox USB 96
Apart from recorded sound quality and performance, budget is another factor that you can't deny. And, when you're looking for a pocket-friendly option, then PreSonus AudioBox USB 96 is a great deal worth stealing. This USB audio interface offers two preamps that are able to record audio at 96kHz or 24-bit configuration. Additionally, its phantom power of +48V is a noticeable option to handle your mics.
Moreover, the audio interface comes with a clip indicator for proper monitoring and control purposes. You can control the volume of your headphones, too with this audio interface performer. Rest assured, the DAW software and almost 6 GB of content would definitely aid up your knowledge of handling such audio interfaces for rockstar performance.
5. MOTU M2
In case you're looking for versatile device compatibility and easy setup, then MOTU M2 is the one for you. Besides great compatibility factors, its performance is worth mentioning. The device is able to provide you with crystal clear audio recordings. MOTU M2 is compatible with PC, Mac, iOS. The input and output ports are of USB-C configuration.
However, there's an extra facility for podcasters, if you go with this audio interface. The USB audio interface flaunts loopback functionality that would definitely attract countless podcasters. On the other hand, its colour LCD display would never keep you down while you're recording. Additionally, you can carry the interface anywhere you want.
Don't Skip the Deciding Factors before you Purchase the Best USB Audio Interface
As you have already observed that every audio interface might differ from sharp quality to other in-built characteristics. Besides highlighting the key features, the USB audio interfaces should be interpreted and bought according to the creator's requirements. You have to sneak into the number of in/out ports, the phantom power specifications and the compatibility for MIDI I/Os.
Similarly, the compatibility, portability and the sturdy build should play important roles in selecting the right audio interface for you. In case, you have dedicated requirements or need tailor-made features, then go through the product description. Finally, take a look at the budget in accordance with the crisp sound quality and all before you make any commitment.